After Kirsty's 1979 debut with 'They Don't Know' was a hit only in airplay terms, and problems at Stiff Records led to the canning of its follow up, 'You Caught Me Out', Kirsty left the label and signed with Polydor.
Kirsty recorded a collection of new songs, backed largely by most of The Edge (Lu Edmunds, Glyn Havard and Gavin Povey) – who had all played on 'They Don't Know', with other top musicians including Billy Bremner, Lee Partiss (later of the Oysterband) and Philip Rambow (of the Winkies, and co-writer of 'Chip Shop') An uneventful start saw the first single 'Keep Your Hands Off My Baby' disappearing without trace, and it was not included on the album released shortly afterwards.
The aforementioned 'Chip Shop' appears in two guises – the original pop version and the now familiar country version tailing off the record. Apart from two well chosen covers ('Just One Look' and 'He Thinks I Still Care') the whole album was written by Kirsty with assistance from Rambow, Lu, and Johnstone.
'See That Girl' was the second single to come from the LP, and also sank without trace. 'Desperate Character' was little known by many and before Record Collector magazine listed it in 1994 had failed to appear in Kirsty discographies (assuming you could find one in those pre-internet days). It remained a vinyl only rarity (the cassette version was even scarcer) until given a welcome remastered CD release in 2012 on Salvo Records. At is peak, vinyl copies were fetching anything up to £70 on eBay.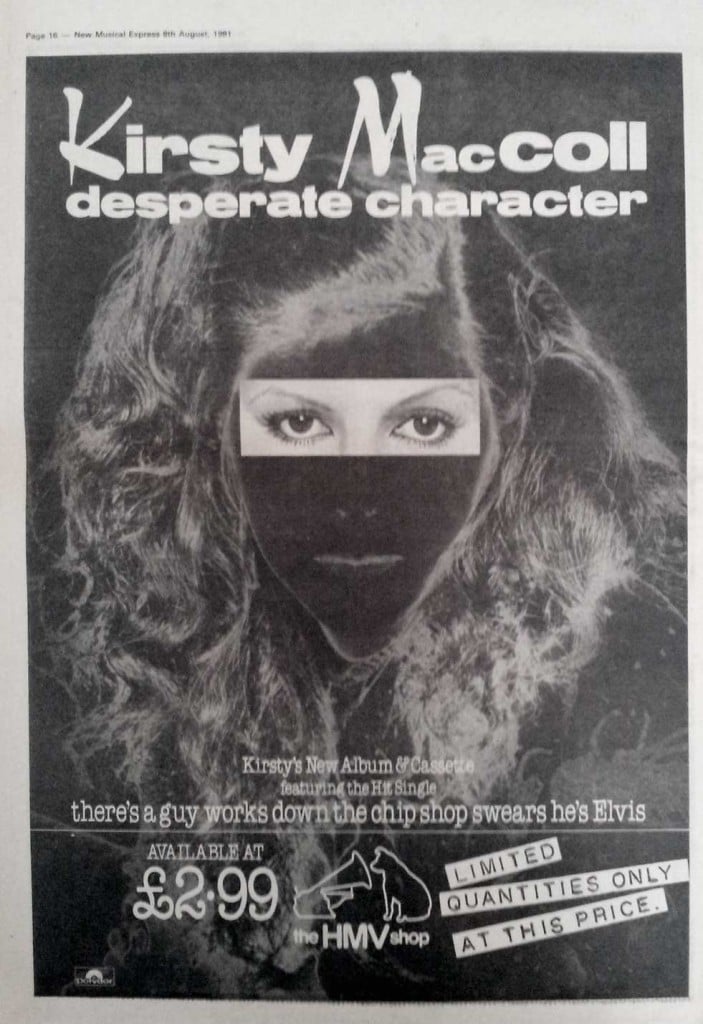 Reviews
Smash Hits
The presence of two versions of her chart singles, 'There's a Gy Wrks Dwn Chpshp etc' (sic) will ensure good sales, and her galaxy of well-respected sidemen ensure a musically competent outing, but the melodies are so derivative that it seems Kirsty has nothing original to offer. Countrified schlock with touches of whimsy, it works best on the wistful stuff like 'Until the night'. Her hackneyed, cock-eyed re-working of 'She thinks I still care' should be fried in its own batter.
(4 out of 10). Johnny Black
French pressing
Other pressings
According to discogs, you can also find this release as:
Polydor 2383 611, Netherlands
Polydor 2383 611, Spain
Polydor 2383 611, Germany
Polydor 2383 611, Scandinavia