Kirsty's discography has featured in both Record Collector and Goldmine. The former is a British publication, and Mark Paytress' article was in March 1994 (issue 175). Dave Thomson' American equivalent appeared in Goldmine on September 13, 1996 (Vol. 22 No. 19 Issue 421)
Record Collector 1994
Kirsty MacColl first came to prominence as a solo artist during the early 80s, scoring Top 20 hits with 'Kite' album, a set which overflowed with instantly memorable hooks and lyrics with teeth, it appeared that MacColl had at last won some richly deserved recognition.
A dance crossover single. 'Titanic Days' which might just prove to be her strongest set yet.
MacColl's chequered career suggests a lack of confidence on the part of the mainstream music industry. Assisted by the CD boom, the business has been content to flood the market with all manner of music from the past forty years. But, as if unmoved by the multifarious styles that have emerged, and continue to emerge over the past few years, it has proved itself to be incredibly short-sighted in its attitude towards contemporary music. A sink-or-swim policy might deliver the requisite coterie of huge-selling international artists, but it does little to reflect the increasing fragmentation of the pop market, let alone give much of a chance to performers who don't quite fit neatly into the categories.
This is where the independent labels have gradually stepped in, their low overheads able to sustain a far greater 'risk' element. But if Kirsty MacColl's acutely observed 'slice-of-life', three-minute musical observations sit uneasily with the comfortable platitudes of international 'Michael Bolton-ish' AOR, and with the primacy of the pulse-beat, there's a professional lushness and distinct lack of over-amplified sound in her music which also prevents easy assimilation into the indie market. Kirsty is inclined to agree.
"I don't think I was ever really fashionable, or associated with any one particular era or style," she says "and that's probably why I'm still going. I think that's an advantage, though it's probably a disadvantage in terms of radio programming in that they have strict categories. But I don't want to be limited by other people's preconceptions of what I do. If I wanted to do that, I'd be like Status Quo, and just make the same record over and over again."
MacColl's barbs at categorisation extend beyond the rigidity of the music industry hierarchies. Prompted by her recent experiences, which have seen her tour extensively throughout Britain, Europe, and now America, without record company backing ("You can't get more indie than that, can you?"), she also mentions in passing the incongruity of so-called indie bands who "often have very lucrative record deals".
Aside from the self-sufficiency which has characterised her recent career. MacColl's preconceptions of the indie market have been shaped by her grounding in the Iate-70s. when she turned up firstly with Chiswick no-hopers the Drug Addix, and then as a solo artist for Stiff. However. much of this early period has been overshadowed by the fact that her father was the noted folk-singer Ewan MacColl – a potential source of inspiration for the pointed social commentary of her lyrics, perhaps?
"I didn't have a folk background, really." Kirsty insists, "My background was living in Croydon with my mum, listening to the radio – I didn't even live with my father." Pop music, on the other hand, came to her early, and by the age of seven, she was exchanging her record tokens for airplay favourites such as the Spencer Davis Group's 'Keep On Running' and the Beatles' 'Day Tripper'.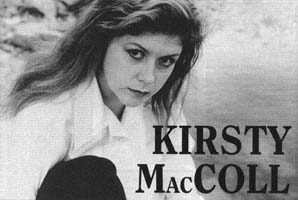 Many have related MacColl's melodic skills back to the classic songwriters of the 60s: "I like the songs that Brian Wilson wrote with Van Dyke Parks. 'Surf's Up'" was just brilliant. And I particularly like Ray Davies songs for the lyrics, their Englishness, and for the quality of the songwriting – they're such beautiful short stories. So much of the stuff written here during that period was pseudo-American."
MacColl's musical obsession continued to flourish, and by the early 70s, she was raiding her elder brother's collection and learning all about Frank Zappa and the Mothers (unprompted. she reeled off verbatim a verse of 'Absolutely Free'!). As luck would have it, she found herself standing next to the late, great Grand Mother at an early punk gig in London, where they struck up a conversation. But by this time, it was the anyone-can-do-it philosophy of the new wave which was foremost in MacColl's mind.
Attending art college and working in a record shop has always been a common route towards pop stardom, and Kirsty's entree followed exactly that pattern. But, unknown to many, her career started a little while before her 1979 single for Stiff, 'They Don't Know'. The words "Mandy Doubt" elicit a hearty laugh. "Blackmail Corner, is it? OK. I was in a band called the Drug Addix. We weren't actually a punk hand, but at the time punk was king and we called ourselves that just to get some gigs. It was actually an R&B band."
Kirsty`s input on the group's 1978 'Make A Record' EP was largely restricted to backing vocals, while the band's mix of 'Sweet Jane' type riffs and slide-guitar-propelled R&B fell between two audiences. Stiff` had paid for a Drug Addix demo session, but didn't like the results: when they heard that MacColl had been chucked out of the band, she was invited back to the offices. Although without any songs of her own at that point, she returned a short time later armed with the basis of 'They Don't Know'. Stiff boss Dave Robinson liked the song, wasn't sure about her voice, hut decided to stick her in a studio anyway, around Xmas 1978. Kirsty was backed by the Edge, which at that time included guitarist Lu Edmunds (fresh from a spell with the Damned), keyboard player Gavin Povey and drummer Jon Moss.
Coming on the tails of highly publicised records by Rachel Sweet and Lene Lovich, MacColl's 'They Don't Know', an impeccably crafted piece of pop writing as rigorously constructed as the finest Brill Building material, probably suffered by association. "I never felt I was doing particularly novelty sort of stuff", she reflects. "but there was this 'Croydon's answer to Rachel Sweet' thing – what the fuck does that mean?" If truth be told, it probably meant that Stiff was cornering the market for attractive young female singers, a belief that is actively reinforced when one recalls the rapid appearance of several photogenic picture discs.
"There's a lot of sexist old crap in this business", MacColl continues. "I'm always described as a 'female singer-songwriter'. You don't see all these other singer-songwriters described as male singer-songwriters. I mean, what's your genitalia got to do with it? You're either a singer-songwriter or you're not."
Pigeonholed or not, Kirsty MacColl's 'They Don't Know'secured enough radio play for it to squeeze between Abba and Wings at the top of the airplay chart, but a distribution strike prevented the song from fulfilling its sales potential. Four years later, though, it ended up in the hands of Tracey Ullman, who very nearly succeeded in making a No. 1 out of it.
Back in 79 though, Stiff wasn't particularly interested in developing her as an artist and, after recording a follow-up, 'You caught me out', they let her go. This single, scheduled as BUY57, reached white label stages, although we're not aware of any finished copies in circulation. (Kirsty says that some American fans possess copies. )
Dropped by Stiff and without a manager, MacColl picked up the pieces at Polydor between 1981 and 1982, during which time she scored her first chart success, discovered angst in the form of stage-fright, and suffered the indignity of recording an album which the record company weren't interested in issuing.
Things got off to a bright start, though. After testing the water with 'You Still Believe In Me', failed to register at all.
Neither did the 'Desperate Character' album, produced by the evergreen Nick Lowe. Brimming with country, rock'n'roll and pop influences, it certainly gave the label marketing headaches, at a time when residual post-punk activity in the shape of electro-pop and the New Romantics were gaining all the attention.
Polydor nevertheless gave MacColl the go-ahead to record a second album, provisionally titled 'Real'. "When we got to the end of the recording," the singer recalls, "I realised that nobody from the company had been down or asked to hear the demos. It was obvious that they weren't interested. Then they just dropped me. I was left with a finished album that wasn't coming out. and that does your head in. It's like having a baby and then leaving it in a phone box."
That wasn't the end of the story. When MacColl hit another purple patch a couple of years later, Polydor jumped on the bandwagon, unearthing several of the tracks for the cash-in 'Kirsty MacColl' album. These tracks, 'Sleepless Nights', were blended in with the Beach Boys cover and material originally released on 'Desperate Character'.
At one stage, Polydor had planned to call it 'Kirsty MacColl's Greatest Hits, but the singer complained. "I only had ''Chip Shop'"! I said 'You can't call it that.' It was a complete mish-mash. The first album material was pub-rock, rockabilly-ish, while the second was much more techno: there was a lot of programming on it."
Worse still, the first album artwork was retained, so none of the musicians who worked on 'Real' – including bassist Pino Palladino and Lu Edmunds, who co-wrote several of the songs – was credited.
To complete a somewhat confused scenario, Kirsty MacColl's debut tour of Irish ballrooms on the back of 'Chip Shop 'proved such a harrowing experience that it was another eight years before she returned to the stage as a solo artist. "I was nervous before I went but I was absolutely shitting myself by the time I got home!" she recalls, with the air of someone who's now exorcised that particular demon. "I was extremely ill prepared for it: I was very young. I didn't have much guidance and it was thrown together at the last minute." '
That wasn't all. "I've also got a very quiet voice, and though it's a lot louder now, it's not exactly Tina Turner! The band made a hell of a noise, and I couldn't hear myself at all. Being young. I didn't realise that you can tell 'em to turn down. I just couldn't imagine why anyone would put themselves in that position for pleasure."
After re-recording 'Berlin' in 1983 for a stop-gap single on the North Of Watford label, MacColl returned to Stiff ("Tracey needed stuff and I thought better the devil you know"). The Ullman hit was a confidence boost. But MacColl had to wait until the end of 1994 for a Top 10 single of her own. Ironically, it came with someone else's song. "I just knew that Billy Bragg's ''A New England'" was like having access to an unreleased Beatles song or something-a real pressie! Everyone else thought I was mad because all they could hear was this bloke singing loik 'at" (passable Billy Bragg impersonation).
MacColl's version carried her own, increasingly recognisable trademark, and the combination of the song's resigned mood, its sparkly pop values and highly polished production won it many friends in both the pop and the then pop-obsessed indie circles.
Some of the single's well-craftedness was down to Kirsty's producer Steve Lillywhite. whom she'd married earlier in 1993. Over the next few years the combination of Lillywhite's production skills and MacColl's vocal arrangements made them one of the most in-demand teams in pop.
Among the many artists who called upon Kirsty's layered vocal backings were Simple Minds (where she was first introduced to Lillywhite), the Rolling Stones, the Smiths, Talking Heads, Robert Plant, Tom Tom Club, The Wonderstuff, Van Morrison, Billy Bragg and Morrisey.
When the arrival of two babies in the mid-80's made pursuing a solo career more difficult, these guest appearances helped pay the bills and maintained Kirsty's profile. The fact that Stiff went bankrupt didn't help matters either. She was prevented from pursuing her solo career until the matter of the legal take-over was sorted out and eventually she was obliged to buy her way out of the contract from ZTT who had inherited Stiff's assets.
Just as that was sorted out, MacColl received another boost when her guest appearance with the Pogues on 'Fairytale of New York' became the finest Christmas single of 1987, and some say of all time. It was a marvellous performance, with the trade-offs between Kirsty and Shane MacGowan conjuring up the rather splendid image of a destitute Nancy and Lee.
Joining the Pogues on tour in Germany eased Kirsty back on to the stage, and also provided her with the motivation to start writing her own songs again. "After all the excitement of a big gig, you've got to go back to some crappy hotel room and all the TV is in German, so you've got to do something. I borrowed a guitar and started writing." On her return from the tour, she began putting together the material that would eventually comprise the 'Kite' album, recording 'Days'. On the strength of them Virgin offered her a deal.
MacColl's method of applying social critique to personal situations was immediately apparent on 'Free World' ("I thought of you when they closed down the school/And the hospital too, did they think that you were better?"), the first of four singles lifted from 'Kite'. As with all her records issued since that time, it appeared on a variety of formats, with the various 10", 12" and CDs often offering non-album material.
From 1979's 'They Don't Know' through to the more ambitious work on her latest album, it's been difficult to suppress the phrase 'quality pop' when writing about MacColl's music. It was 'Kite', though, which really hammered this home. Some big names popped by to lend a hand (Johnny Marr, who co-wrote two numbers, and Dave Gilmour among them) but none could ever hope to upstage the songs.
You can almost visualise the sawdust on the opening 'Innocence', its countrified bar-room camaraderie topped with one of those simple-yet-devastatingly effective melodies which have always been MacColl's forte. Few could sing a line like "Sod all your funny little ways" without instantly reducing a song to the level of farce, but 'No Victims' (where unusually the song's motif is the underpinning bass riff) is all the better for it.
'Days' was an obvious choice as a follow-up to 'Free World'. Supported by a video that conjured up the Disneyesque charm of 'Mary Poppins, MacColl's version remained faithful to the Kinks 1968 single, adding lush production and tweaking the dynamics by preceding each verse with a nifty drum pattern. 'Days' reached No. 12: 'Kite', somewhat surprisingly, narrowly missed out on a Top 30 placing.
Neither of the remaining two singles from the album managed to repeat the success of 'Days', which was particularly strange in the case of Kirsty's country pastiche, 'Don't Come The Cowboy With Me Sonny Jim!', a kind of 'Stand By Your Man' in reverse, with one or two unlikely chord changes thrown in.
Kirsty MacColl re-emerged in May 1991 with 'Trains And Boats And Planes', unavailable elsewhere.
Much of the album was co-written with ex-Fairground Attraction man Mark Nevin, and while the implicit Englishness of 'Kite 'was supplanted by a more international outlook, one reason for its relative failure must have been trying to market it in a climate that was either grunge- or dance-obsessed. Collectors should look out for an 'Electric Landlady' promo-only video, which combines interview material with behind-the-scenes clips.
Some might be surprised to learn that the reason MacColl's new album. 'Titanic Days' appears on ZTT was because she was dropped by Virgin. "I wasn't completely expecting it." she says, "because ''Madison'" had done quite well. and you don't get dropped until you've had a complete flop. Virgin were being bought out by EMI, so they got rid of tons of stuff – I wasn't the only person who wasn't treated terribly well." Public Image Ltd. headed a whole host of name acts who fell foul of the company rationalisation process.
Since that time, Kirsty MacColl has thrown herself into live work, which has given her the unique opportunity to unveil new material before getting it down on record. "I'd even do a live album now, definitely." she enthuses, having recently completed a successful U.S. tour. "I've really enjoyed these past two years. It helps having a terrific band. I've got Pete Glenister back again." (her chief co-writer on 'Kite', Gary Sandford (ex-Aztec Camera) and the original Ruts rhythm section, Dave Ruffy and Vince Seggs.)
'Titanic Days' has been 18 months, on and off, in the making. But if anything, it has a slightly more open feel than the previous two albums, perhaps a result of'steve Lillywhite's role being restricted to the mixing desk. "He was out of the country when I wanted to start making it." Kirsty reveals. "and I've made enough records not to need someone there every day, really. I was very glad that he wanted to mix it, though, because that's not my favourite part of the process."
"I want to shake up this world and not to feel so useless" is an opening line that encapsulates the sense of indolent rage felt by the modern-day political radical. MacColl, who once said. "If a record doesn't make you think, laugh or dance – ideally all three – then it's a waste of vinyl", may not dress up her words of social discomfort in rock's traditional revolutionary language (primarily power and speed) neither does she pander to the simple skills of the sloganeer. preferring instead to weave her cultural metaphors (most impressively on the title track) into songs of a distinctly personal nature.
'Titanic Days' runs right across the musical spectrum. The baggyish beat of the first single. 'Soho Square' and the title track all suggest that Kirsty MacColl is still happy to confound the genres in the age of the niche market. You couldn't fail to spot a Kirsty MacColl record, though, with its vocal delivery that hovers close to melodic narration, and which in turn enhances the filmic quality that most of her lyrics seem to have. "I'm quite pleased to have a voice that you either like or you don't." says MacColl, who's looking forward to a nation-wide UK tour in the next couple of months. "To sound unique is the best thing that can happen to you as a singer. I'd much rather hear Iggy Pop than Michael Bolton."
Can't argue with that.
---
Goldmine, 1996
She's been around for such a long time now, she admits she's a part of the furniture, "part of the rock 'n' roll consciousness." She's not had hundreds of hits, but people remember the ones she has chalked up, and if her name is sometimes elusive, the titles ring louder than Christmas. 'There's A Guy Works Down The Chip Shop Swears He's Elvis, 'Walking Down Madison', cameos on the Pogues' 'Fairytale Of New York' and Billy Bragg's 'Sex' (sic), a songwriting credit on Tracey Ullman's 'They Don't Know'. She is, of course, Kirsty MacColl, and the last several months have seen her own star rise as high as those of the people whose own records she has graced over the last decade.
'Galore, a collection of MacColl's biggest, and best-known, recordings, gave her her biggest British hit album yet. Two singles, including a duet with Lemonhead Evan Dando, finally established her in the singles chart, and though the United States has still to wholeheartedly embrace MacColl's warm-blooded blend of rock, pop, folk and torch, the reviews which greeted 'Galore' were themselves some of the best of her career. "And that was the idea," she admitted, going on to explain that "the whole point of 'Galore" was to reintroduce me to the American audience, which had been waiting four years for me to follow up ''Walking Down Madison'"." It also served to preempt any compilations which other labels might have had in the works, "because when you've been signed to as many labels as I have, that's a real threat."
Stiff Records, her first (and third) label, has already' anthologized her early' and mid80s output with the 17-track Essential Kirsty MacColl compilation, which MacColl herself wasn't aware of "until I saw it in a shop in Toronto.'' And Polydor, her second label, came very close to issuing Kirsty MacColl's Greatest Hits as long ago as 1985, contenting itself with a simple eponymous title only after MacColl herself complained. "I'd only had one hit on Polydor, they only had one hit on the album. It was against the Trade Descriptions Act, if nothing else," she said. 'Galore' is stronger, primarily because it delves into MacColl's complete career, or at least as much of it is as she would permit. Her first-ever release, however, remains as deeply embedded in her closet as she can get it.
"The Drug Addix were really an R&B band, but it was 1978, so we had to be punks," MacColl said. "Actually, all I did on the record was backing vocals. You can barely hear me." The Record, subtitled 'Close Encounters Of An Unsavoury Kind, was released by the London independent Chiswick, in June 1978. It was very much a product of its time. MacColl appeared under the name Mandy Doubt, the remainder of the group including such unlikely pseudonyms as Art Nouveau and Sterling Sterling. Good punk names one and all. The song titles, too, do their best to disguise the band's R&B leanings. The opening cut, and still the most notorious, was 'Gay Boys In Bondage'" a hilariously filthy piece of porn which also appears on the Chiswick Story label anthology It was joined on the EP by 'Addington Shuffle', 'Special Clinic' and 'Glutton For Punishment'.
'Make A Record' was only ever intended as a one-off, issued within Chiswick's "Sound Of The Suburbs" series of EPs by unknown London bands (the nascent Billy Bragg was also numbered among these one-shots, with his band Riff Raff). It garnered a fairly enthusiastic response, though, and toward the end of the year, Stiff Records made a tentative move for the Drug Addix, inviting them into the studio to record a demo. The results were less than satisfying, but someone at the label at least noticed MacColl, and when they heard that she had been kicked out of the Drug Addix, she was invited back to Stiff HQ. "The trouble was, I didn't have any songs to play them. So we talked, then I went home and started writing." The rest, as Galore indicates, is history
Kirsty MacColl, of course, was born into a family which already had its resident musical genius, her father Ewan MacColl. The composer of 'Dirty Old Town' and 'The First Time Ever I Saw Your Face' dominates the English folk scene as authoritatively as Woody Guthrie bestrides America's, but MacColl is swift to scotch any suggestion that dad's influence rubbed directly off on her. "My influences were my older brother's record collection, and growing up in Croydon with my mum, Jean, listening to the radio. I didn't even live with my father." Asked to list the music which did the mean the most to her, she singles out the Kinks, the Shangri-Las and the Mothers of Invention, among others, and admits that when she was first approached to work with the Pogues, "I came very close to saying no, because I didn't want to fall into the folk thing."
But if MacColl didn't write the same kind of songs as her father, she certainly wrote to the same standards of excellence. 'They Don't Know', the song with which she returned to the Stiff offices, just a few weeks after that first meeting, proved that. "I wrote it when I was 18. Although punk was exploding at that time, and I was listening to the Sex Pistols and the Ramones, I had, around the same time, become a big fan of Phil Spector and girl groups in general." Even in demo form, the song had '60s radio classic written all over it, and that, combined with MacColl's stunningly photogenic looks, was enough for Stiff.
Like so many other Stiff veterans, MacColl looks back at her early days with the company with just a touch of bitterness. The undisputed queen of the label was the then school-aged Rachel Sweet, and for marketing reasons which are now long-forgotten, no Stiff artist of the time could escape some kind of comparison with the diminutive Akronite. Wreckless Eric still winces at the memory of Stiff's attempts to portray him as Sweet's number one Hopelessly Love-lorn Suitor, and though MacColl escaped that particular tag, even today one only has to say "Croydon's answer to Rachel Sweet" in her presence, and her eyes blaze furiously: "What the fuck does that mean?"
Recorded with ex-Damned guitarist Lu Edmonds' new band, the Edge, 'They Don't Know, backed by the rocking 'Turn My Motor On', was released in June 1979, straight into a firestorm of media approval. Reviews were unanimously positive, while the massive support it received from British radio should have pushed 'They Don't Know' to the top of the chart. There was one point when only ABBA's 'Does Your Mother Know' and Paul McCartney's 'Old Siam Sir' were receiving as much exposure as 'They Don't Know'. Unfortunately, that bane of the independent record label, a distributors'strike, chose that same month to fall, and so 'They Don't Know' languished in the warehouse, much sought-after but almost totally unobtainable. By the time copies did start leaking out, as both a regular 7-inch single, and a now scarce picture disc, it was too late.
Worse was to come. A second single, 'You Caught Me Out', was produced, backed with 'Boys', which paired MacColl with the Boomtown Rats. Shortly before its October 1979, release date, however, MacColl and Stiff parted company. Though they are understandably very rare, copies of this single do exist. Stiff Records' own retail premises, a repository for future label rarities, briefly carried both white label and promotional pressings of the single, although MacColl herself only recalls seeing copies in the possession of American collectors. That's not too surprising, though. Like those other monuments to British entrepreneurial zeal, Harrods and Buckingham Palace, the Stiff Records store always seemed to attract many more tourists than natives.
MacColl spent much of the following year demoing new material, and toward the end of 1980. she signed to Polydor. Her first single, 'Keep Your Hands Off My Baby, which she had recorded during the previous year, was released in February, 1981. It did little saleswise, but did alert people to her return. The follow-up, the still wryly brilliant 'There's A Guy Works Down The Chip Shop Swears He's Elvis', did the rest. Co-written with Phil Rainbow, truly one of the most underrated songwriters of the age (he also penned much of Ellen Foley's magnificent 'Night Out' debut), 'Chip Shop' was one of those pseudo-novelty songs with which the British charts so frequently abound.
Its title alone won it instant airplay, while its knockabout rockabilly backing blended perfectly into the latest retro fever to be gripping the country (the Stray Cats were on their way to becoming fleetingly huge at just this same time). Delve deeper into the song, and you'd find it was really not that funny after all. But you'd probably already bought it by that time, and 'Chip Shop' eventually came to rest at a very respectable #14. "I felt it was about 'Elvis' being a state of mind," MacColl explained. "I still see a bit of Elvis in various self-deluding men the world over."
MacColl toured Ireland in the wake of 'Chip Shop', but it was not a happy affair. Combining acute stage fright with near-total inexperience, she returned home vowing never to tour again, a resolution she kept until 1990. "I finally decided I'd done everything I could in the studio. I had to tour, or else I'd die a bitter old lady, wishing I had." This time, her only reservations involved "spending five weeks in a bus full of blokes." "Sweaty" and "smelly" were not qualities she relished.
Polydor released two further MacColl singles during 1981, 'See That Girl' and an exquisite cover of the Beach Boys' 'You Still Believe In Me. Unfortunately, neither charted, a fate which also awaited her debut album, 'Desperate Character'. Produced by Nick Lowe, Desperate Character was a fine, but confused album. 'Chip Shop' and 'See That Girl' were both featured, together with a roundup of musical styles which ranged from country to pop, but seemed intent on avoiding anything which might have fit into Britain's latest musical climate. Now it was the age of synthpop and New Romanticism, and "pub rock, which is basically what I was doing, simply didn't have a chance."
It was in the hope of pushing MacColl in a more populist direction that Polydor almost immediately sent her back to the studio to record a second album, provisionally titled Real, and abounding with electronic dance rhythms. MacColl united with several different groups of musicians as the sessions progressed, including separate bands led by former Squeeze pianist Jools Holland and one time Marmalade mainstay Junior Campbell. Lu Edmonds returned to the fold as guitarist and occasional co-writer, together with bassist Pino Palladino (later to find fame in Paul Young's band), and there were also some memorable sessions with another guitarist/songwriter, ex-Physical Alan Lee Shaw.
Shaw met MacColl through her old Drug Addix bandmate, Art Nouveau. He remembered, "his new band, Rick Smith and the Villains, were playing the Rock Garden, and their regular guitarist was down with hepatitis, so I stood in for him. Kirsty came to the show with her manager, Frank Murray, who used to be the Physicals' manager as well, and Frank said, 'Oh, Kirsty's interested in doing some stuff with you.' It was as simple as that. So we went round to her place in Willesden; and we just started writing. There was this great rapport, I'd be putting guitar riffs and ideas down on tape, then we'd take them from there. We got about 20 songs done, then whittled them down to six or seven, and did some rehearsals."
Joined by Lee Partis (OK Jive drummer who also appeared on Desperate Character), Jools Holland and Ska legend Rico, with drunken backing vocals courtesy of Gary Holton and Mick Rossi, four songs were finally completed, all of which were earmarked for inclusion on Real, with one, a driving Stonesy rocker called 'A Boy Like You', showing definite potential for single status. Unfortunately, it was not to be. "The album was completed," MacColl recalled, "when I suddenly realized nobody from Polydor had even been down to hear the demos!" Reluctantly, she came to the conclusion that her new label, like her old, had simply lost interest, a scenario which was realized when the album was delivered, and went straight onto the shelf.
Another year of comparative inactivity passed, during which MacColl resurfaced just once, in August 1983, with a re-recorded version of the abandoned Real's 'Berlin'. Released by the tiny North Of Watford independent, in both 7-inch and 12-inch formats, 'Berlin' did little saleswise, but it did remind Stiff Records that MacColl was still around, and did so at a most fortuitous time. Comedienne Tracey Ullman had recently emerged as a hit-making property for the label, with a lop 5 rendering of the classic 'Breakaway'. Now she was readying her second single, a cover of MacColl's own 'They Don't Know', and MacColl was invited along both to help out on backing vocals and to provide the cry of "baby" which kickstarts the song's third verse.
As 'They Don't Know' rocketed toward its chart peak of #2, MacColl made her debut as a record producer. Working with one of her occasional songwriting partners, Gavin Povey, she handled Tracey Ullman's version of MacColl's own 'You Broke My Heart In 17 Places', the title track of Ullman's debut album. Shortly after, Stiff came in with a new offer. "Better the devil you know," MacColl laughed, and her second stint on Stiff began with the boisterous 'Terry'.
During the fall of 1983, MacColl was recruited to sing backing vocals on the next Simple Minds album, 'Sparkle In The Rain', appearing on two songs, 'Speed Your Love To Me' and a remarkable version of Lou Reed's 'Street Hassle'. More importantly, however, she met her future husband at the sessions, producer Steve Lillywhite. The couple married just months later, and when MacColl returned to the public eye with her cover of Billy Bragg's 'New England', in the summer of 1984, she was carrying the couple's first child, as the accompanying video makes clear.
'New England' would become the hit for which MacColl had been searching for three years now, a sparkling rendition of what, in Bragg's own hands, had been a somewhat dour little effort, known only from live performances and a year-old John Peel session. With Bragg having contributed a new verse, MacColl creating a bridge section, and Lillywhite proving the most sympathetic producer MacColl had yet worked with, the song was irresistible, and swiftly soared to #7 on the chart. It hit its peak, incidentally, on the very day the couple's first son was born.
As is standard with Stiff releases, 'New England' trailed a clutch of collectible variations in its wake. A shaped picture disc, and a rare picture sleeve, were joined by a 12-inch single which added the otherwise unavailable 'I'm Going Out With An 80 Year Old Millionaire' to the regular pairing of 'New England'/'Patrick'.
They say lightning never strikes twice, and maybe that's true. But unsuccessful follow-ups certainly do. Released while MacColl was still nursing her son, but strong enough to have easily overcome her absence from the promotional treadmill, the singer's next single, 'He's On The Beach', was as resounding a flop as 'See That Girl' four years previously. Its failure was made even more infuriating when Polydor announced that it intended dusting off highlights from both 'Desperate Character' and the unreleased 'Real' tapes, and releasing them under the singularly dishonest title of 'Kirsty MacColl's Greatest Hits'.
Sense, decency and MacColl's own protests eventually prevailed; the album was ultimately titled 'Kirsty MacColl, and for collectors, it was indeed a treasure trove of unreleased material. Six [? – FW] of the album's tracks dated from the 'Real'sessions, including the original version of 'Berlin' (but not 'A Boy Like That, which remains unreleased to this day), plus the non-album 'You Still Believe In Me'single. Unfortunately, what could have been a worthwhile project was wholly undermined by the decision to simply package the new album in 'Desperate Character''s sleeve, without any reference even to the musicians involved in the new tracks. And after all those trials and tribulations, 'Kirsty MacColl'sank without trace.
Matters only worsened as 1985 ground on, and it became clear that Stiff Records, too, was sinking. The company finally declared bankruptcy early the following year, and MacColl found herself in the unenviable position of being considered nothing more than "an asset. I was left sitting around the house waiting for the receiver to sell my contract before I could record again. The only thing I could do legally was session work, so every time the phone rang I'd say yes, just to get out of the house." Between 1986-89, Kirsty MacColl became one of the most in-demand session vocalists around, often (but not always) working in tandem with husband Lillywhite. She can be heard on albums by acts as disparate as the Talking Heads, the Smiths, Robert Plant, the Wonder Stuff and Van Morrison, and admits that sessions were the only thing that prevented her from going completely stir-crazy.
Some of MacColl's best performances to date can be found among these sessions, not to mention some unique memories. Working on the Rolling Stones' 'Dirty Work' album, for example, she received guitar lessons from Keith Richards, while her performance at a Smiths session ended with both Morrissey and guitarist Johnny Marr insisting that she record one of their songs. "When Johnny played me 'You Just Haven't Earned It Yet, Baby'",'' MacColl remembered, "I knew it was the one. The story of my life!" MacColl's version of the song would eventually appear on her next album, 'Kite'.
But MacColl's biggest breakthrough came when she was invited to duet with Shane MacGowan on the Pogues' 'Fairytale Of New York, in 1987. Surely one of the greatest Christmas records ever made, its portrait of two elderly drunks pledging their undying love through a volley of abuse, "a destitute Nancy (Sinatra) and Lee (Hazlewood)" as one writer put it, also places it amongst the most touching duets ever recorded. According to Shane MacGowan, "I first got to know her when her husband was trying to produce ''If I Should Fall From Grace With God'". We had a long chat down at the studio, when she was as out of it as I was." MacColl's version of events is slightly more sober. "I met the Pogues as we shared the same manager for a while. When I was asked to sing it, I was a bit dubious as I had a fear of folk music that only someone with a folk-singing parent could have. But I said I'd give it a go, and if they didn't like it, they could get someone else. They liked it." MacColl ended up singing backing vocals throughout that album, the Pogues' Island debut, with the beautiful 'Lorelei' wringing just as impressive a performance from the MacGowan-MacColl team as 'Fairytale' itself.
The success of 'Fairytale Of New York' (it made #2 in Britain, and remains a seasonal perennial) also drew MacColl back onto the stage, when she toured Germany with the Pogues during 1988. She began writing again as well, and upon returning home, she and Lillywhite recorded three songs with former Hitmen guitarist Pete Glenister, MacColl's own 'What Do Pretty Girls Do', 'Free World' (the first of what MacColl calls "my post-parenthood songs") and a version of the Kinks' 'Days'. The results were powerful enough for Virgin to promptly rescue her from the clutches of the receiver, and in March 1989, 'Free World' was released as MacColl's first single in almost four years.
Appearing, as would all subsequent MacColl singles, in 7-inch, 12-inch and CD form, 'Free World' was also bolstered by cassette and 10 inch limited editions, and made it to #43. 'Days', three months later in June 1989, went even higher, taking MacColl to #12. A long-time fan of .the Kinks, MacColl had long had her eye on 'Days', and it was one of her proudest moments when she heard Ray Davies himself proclaim how much he enjoyed her rendition. Even higher praise came from Bono, who once described MacColl as "one in a line of great English songwriters that includes Ray Davies, Paul Weller and Morrissey." She was, he punned, "the Noelle Coward of her generation." Yet when you flipped this most quintessentially English-sounding single over, there was MacColl offering up Marty Robbins' 'El Paso', and sounding just as natural as she had on 'Days'.
'Kite', MacColl's first Virgin album; was released in May 1989. It was a remarkable record, made all the more fascinating by the presence of two truly hard-hitting guitarists, the Smiths' Johnny Marr and Pink Floyd's Dave Gilmour, and it deservedly became MacColl's first U.S. album release, when it was picked up by Charisma. Highlighted by 'Free World' and 'Days', Kite also included a remarkable rendition of the traditional 'Complainte Pour Ste Catherine', a song hitherto indelibly associated with the McGarrigle sisters.
'Kite' would spawn two further singles, 'innocence' and the rousing 'Don't Come The Cowboy With Me, Sonny Jim' (both backed, like those earlier singles, by a wealth of non-album material), with the latter also spearheading an excellent BBC radio session, in December 1989. Backed by a band which featured Phil Rainbow, Attractions drummer Pete Thomas, Rumour guitarist Martin Belmont, plus Pete Glenister, Bobby Valentino, Gavin Povey and Paul Riley, MacColl also recorded versions of 'What Do Pretty Girls Do', 'Don't Run Away From Me Now', and 'Still Life'.
Despite this sudden reverse in her solo fortunes, MacColl had not abandoned session work, and 1989 saw her make a return engagement with Morrissey, now solo following the dissolution of the Smiths. Her backing vocals are almost a duet on the 'Interesting Drug'single, and Morrissey later opined, "She is a supreme original, although not, as far as I know, an original Supreme.".
MacColl's profile was given another boost when she was invited to contribute. to the Red Hot and Blue AIDS awareness project, in 1990. "I asked if I could do a song with the Pogues, and chose 'Miss Otis Regrets'" because it already sounded like an Irish ballad, what with Miss Otis killing her lousy lover and getting hung by an angry mob." The performance turned up on the first Red Hot And Blue album later that same year.
Throughout 1990, MacColl was gathering material for her next album, the cleverly titled 'Electric Landlady'. As usual, she was working with a wide coterie of musicians, including again, Johnny Marr, with whom she composed 'Walking Down Madison', the song which remains MacColl's best known release in this country. "I wrote the lyrics when I was working in New York, when I was actually walking. I couldn't find the right musical approach for ages, I tried writing stuff and asked some other people to try, but it never worked until I got a tape through the post with some ideas from Johnny Marr. The minute I heard his guitar I dug out the lyrics and sussed out a melody". Suddenly transformed into a furiously dance-oriented trip through the sewers of New York, 'Walking Down Madison' was released, in May 1991, in a variety of differently textured mixes, and became a hit on both sides of the Atlantic. Perhaps even more noteworthy, however, was a track buried away on the B-side of one of the two U.K. CD singles, a duet with Billy Bragg on a version of Johnny Moped's anthemic 'Darling, Let's Have Another Baby'. A remarkable performance, it must be heard to be believed.
Another fine album, 'Electric Landlady' was further distinguished by the presence of Fairground Attraction guitarist and sometime Morrissey collaborator Mark Nevin, who co-wrote many of the songs, the dawning of a relationship which has continued to this day. (in 1995, MacColl gifted one of the most beautiful songs she has written with Nevin, 'Dear John', to Eddi Reader.)
But though MacColl's fans were happy with what they received, Virgin apparently weren't. Two further singles, the Latinesque 'All I Ever Wanted, both flopped, and with 'Electric Landlady''s sales failing to match those of 'Kite', MacColl was dropped toward the end of 1991, following Virgin's acquisition by EMI. "They got rid of tons of stuff," MacColl philosophically remarked. "I wasn't the only person who didn't get treated terribly well by them. They dropped Public Image at the same time."
MacColl had, by now, taken the plunge back into live work, and the last of her Virgin singles, 'All I Ever Wanted', features a range of in-concert recordings spread over the B-sides of the different formats. The regular 7-inch boasts a very bold work-out on 'Chip Shop; the 12-inch added a version of the Everly Brothers' 'Walk Right Back', while the CD features an "unplugged" rendition of 'New England', performed by MacColl and Billy Bragg.
Aside from a Westwood One broadcast dating from 1995, these are the only readily available live recordings in the MacColl catalog, which is truly a shame. Away from the studio, where the temptation to pull out every production trick in the book often seems to get the better of her, MacColl is a furiously energetic performer, not only letting her hair down, but also allowing her punk rock roots to show through. Her 1993 American tour even introduced a version of the Ramones' 'I Wanna Be Sedated' to her live set, while her band's rhythm section of Dave Ruffy and Vince Seggs first worked together in the now-legendary Ruts.
Preliminary work on MacColl's next album, 'Titanic Days, had already commenced when Virgin dropped her; it would be 18 months before that album would finally see the light of day, appearing in the fail of 1993 in the U.S., where she was now signed to IRS, and early in 1994, in the U.K. on ZTT. In the meantime, MacColl's Stiff and Polydor years were recounted on 'Boys' coupling were featured, seriously hamstringing the collection in collectors' eyes. Attention returned to MacColl's current output.
'Titanic Days' was MacColl's broadest, and most developed album yet, but it is also her darkest. MacColl's marriage was on the point of breaking up, and she acknowledges that the title song, 'Titanic Days' itself, "is about physical and emotional bondage. This was a particularly dark period of my life, like a never-ending night. British winters are truly awful!" Other songs dealt with abuse, loneliness and violence, but that didn't stop one of the bitterest of them all, 'Can't Stop Killing You' (co-written with Johnny Marr), being lifted for a well-received video, shot at a suitably gross location. "It was a man-made salt lake in the California desert," MacColl explained. "It's bright red and filled with Mexican sewage. I'd love to send you a scratch 'n'sniff postcard."
A second video from 'Titanic Days' was released in America, just in time for Christmas 1993. 'Angel' would also become the theme for IRS's company Christmas cards that year, one of two very in-demand collectibles spawned by the domestic 'Titanic Days. The other was a four-track promo EP (IRS DPRO 10753), featuring the third single, an edit of 'Miss Otis regrets. These same live tracks reappeared, together with 'Walking Down Madison' and an otherwise unavailable piano mix of 'Angel', on stock copies of the 'Titanic Days' CD single, released in the spring of 1994 both to maintain the high American profile which 'Titanic Days 'had given MacColl, and also to promote IRS's latest coup, securing the rights to both 'Kite' and 'Electric Landlady', for immediate reissue. Both had been deleted when MacColl and Charisma parted company in 1991.
The acquisition of these two crucial albums, of course, made the compiling of 'Galore' considerably easier than it might have been: with four prior record labels to deal with, simply licensing a representative section of material could have turned into an administrative nightmare. As it turned out, "Everyone was very cooperative," said MacColl, and the only truly regrettable omissions from Galore turned out to be that obscure North Of Watford version of 'Berlin', and a track from 'Titanic Days' which MacColl herself admits amazed her with its reception from her fans. The latest in her trademark collection of songs about life's unfortunates, 'Soho Square' brings a breath of glamour to the life of a lonely London bag lady, and MacColl confessed, "I was surprised just how popular that song is. But of course, I didn't find out until it was too late to include it."
Released on IRS in America, the British version of 'Galore' was handled by Virgin, the company which had so unceremoniously dumped her just three years before. MacColl smiles at the irony. "The way I look at it, if a label hasn't signed Kirsty MacColl at least twice, then they're nobody" Although it was marketed as a straightforward hits collection, 'Galore' also offers a peek into MacColl's immediate future, via its final two cuts, 'Caroline' and Lou Reed's 'Perfect Day'. 'Perfect Day' was one of several cuts MacColl recorded with Boz Boorer, best known today as Morrissey's guitarist (but also the engineer of Adam Ant's recent revival). The pair first met through Boorer's wife, Lyn, then bassist with Shout Sister Shout, whose drummer, Brian Neville, was a former flatmate of MacColl's. Their acquaintance was renewed when MacColl opened for Morrissey at London's Alexandra Palace, and again when Steve Lillywhite produced Morrissey's 'Vauxhall And I' album. Finally, MacColl asked Boorer to play a couple of shows with her during 1994, at the Mean Fiddler and the Phoenix Festival.
'Perfect Day' was initially conceived as a duet with Morrissey. Indeed, according to MacColl, "It was Morrissey who came up with the idea, while we were sitting in a pub thinking of songs that would make a good duet." Those plans eventually came to naught, and in the end, it was Evan Dando who provided the other voice, turning up, MacColl recalled, "just as I was wondering how I could get hold of him to do it." It was Boorer who came up with the song's unique string arrangement. "The original (on Reed's Transformer album) sounds like it only has two violins on it, so it was interesting trying to work out an arrangement for a string quartet. Then, the night before we went into the studio, Kirsty asked me over to play it to her."
"I couldn't play all four sections at one time so I sat at the keyboard and played each one in turn, and of course, you don't really get any sense of how it will sound when you hear it like that. So I could see her frown getting deeper and deeper. The next day in the studio, when the musicians came in, she was still frowning, but by the end of the session, she was really happy with it." Two versions of 'Perfect Day' were recorded. The first, featuring MacColl alone, was taped while they were waiting for Dando, and features a very fiery vocal. When Dando finally arrived, however, he turned in so laconic a performance that MacColl had no alternative but to gently rerecord her own lines.
Despite 'Irish Cousin'" was something Kirsty had had around for some time," said Boorer. "She recorded it with Mark Nevin and Dave Ruffy but they'd never been happy with it. It was missing something. When I heard it, I suggested adding a slap bass, and that did the trick."
Inspired by Patrick McCabe's novel of the same name, 'The Butcher Boy' has an even more interesting genesis. McCabe was putting together a talking book version of the novel, and contacted MacColl to ask if she would contribute a title song to the proceedings. Featuring MacColl, Boorer and the Pogues'spider Stacey on penny whistle, the audio book makes an interesting addition to any Kirsty MacColl collection, although the single version is identical.
With television advertising having helped push Galore high up in the chart, 'Perfect Day' was released as the follow-up single, and entered the chart at #74 within a week of release. It fell out again just seven days later. "I was on holiday in New York," Boorer laughed. "I got home and asked a friend if anything exciting had happened and he said, 'Yeah, you were in the chart. But you're not there now' I was only gone for a couple of weeks!" 'Perfect Day', incidentally, was backed with three previously released cuts, 'Terry'.
At the time of writing, MacColl's most recent release was a reissue of 'Days', sent soaring up the charts after being featured in a Sony television commercial. Her own attentions, however, are set on a new album drawing upon her intense interest in, and love for, Cuban music It is another new direction for a singer-songwriter who long ago proved that she can never be bound by one sound; who has finally proven, too, that her audience is sufficiently attuned to stick with her despite her convolutions. For a long time, as her hiccuping British chart career proves, that audience was loyal, but tiny. 'Galore' changed all that, and as she works on this next album, it is in the knowledge that after sixteen years of trying, she has finally broken through to the British record-buying public in a big way The United States can only follow.
Thanks to Kirsty MacColl, Boz Boorer, Alan Lee Shaw and Wendy Weisberg for their time and assistance.