This appeared in the 22 April 1985 Australian issue of Smash Hits. She was asked what she'd been up to since her last interview four years previously. "Well, I feel I've kept my cult status by only putting out records once a year" she ventured. Joking apart, it was Kirsty's skill as a songwriter which enabled her to survive this lean period. Tracey Ullman approached her for some new material, and things started looking up. "We went for a drink, and Tracey bought me a meal. I was pretty skint at the time. She really liked my songs. I was a bit lost at the time, so it gave me the incentive to write again."
"I always thought 'New England' would be great with loads of harmonies, it's such a good melody. Billy does it in a very rough way, and it's like a busker doing a really good Beatles song. He's got loads like that. I just think he's a really good songwriter and should be encouraged immediately!"
Lisa Anthony interviewed Kirsty for Debut magazine early in 1985. Photography: Tom Collins. Article supplied by Ron Rawls.Kirsty burst into the public eye in 1981 with 'There's A Guy Works Down The Chip Shop Swears He's Elvis', and just as abruptly disappeared. She firmly puts the blame onto her ex-record company – Polydor.
"They just wanted twelve versions of 'Chip Shop' – it was very frustrating. You spend three months working on something, pouring out your heart and soul, writing songs, getting the best musicians, you get it all done in the studio and the record company refuse to release it. If you don't like it yourself when it does come out you may think it could have been better but if it isn't released then you start to think why bother? I can't see why Polydor signed me up, really, except I may have been a tax loss."
After 3 years at Polydor Kirsty returned Stiff. During that return visit Tracey Ullman recorded 'They Don't Know' which shot up to number two in Nov '83, making up for Kirsty's own 1979 version sinking like a lead balloon due to industrial action at the distributors. "(My version) wasn't any better or worse than Tracey's version– it was practically the same. If there hadn't been an obvious reason for its failure I would have been disappointed but at least there was. As it was, it got plenty of airplay, started my career, got my name known and got me a record deal. I am glad it was finally a hit because it's a nice song– everybody else seemed to think so too otherwise they wouldn't have bought it would they?"
Asked about musical trends and influences, she responded "I like Frankie (Goes to Hollywood). I'm not really a Wham! fan. At first they were exciting but now they sound like Culture Club. It all seems pretty boring. I like people who don't sound like anyone else. I'd rather listen to somebody who sings a good song, whoever's singing it isn't important. I tend to prefer the Kim Wilde sort of voice to the 'starlight soul' because I'm not a soul singer and I don't listen to a lot of soul music. I can't bear to listen to all that emotion, it does me in – I prefer people who hold back instead of bleeding all over your carpet."
"I used to listen to lots of Steely Dan, though the first record I ever bought was 'Keep On Running' by the Spencer Davies Group – I was only six then. The songs I wrote when I was 17 weren't that different to the ones I'm doing now. I mean they were like 'They Don't Know' – that was the third song I ever wrote. The stuff I do now is more sophisticated technically but that's because I've learnt more about what I'm doing. I don't think it makes them any better. It's the naive stuff that seems to have done well."
Who would she like to write for? "Well I guess Stevie Winwood –after all he did sing on the first record I ever bought. Also Alison Moyet. She's got a great voice, she interprets things very well but the songs she gets aren't that good." I can listen to The Smiths for hours and hours and they cheer me up in some kind of strange way. You think oh well, if things are bad for me just how terrible they must be for Morrissey and you haven't got any problems. I would just love to be miserable with Morrissey!".
Conversation turned to 'New England'. "I went to see Billy play about 18 months ago. He just got up on stage with his guitar and a tiny little amp and sang. I thought this bloke's brilliant. The sign of good song writing is if the song's good it will stand up on its own. People do great productions on songs that aren't really there. When I met Billy he turned out to be a great fan of mine – he'd even bought a couple of my records that I didn't know anybody had got. So that gave me confidence to ask him what he thought if I had a go at 'New England', he said 'yeah definitely', so I decided to do it. I used to sing all the harmonies that I'd do on record along to Billy's version. It's really a great song with a strong melody, though it just wasn't long enough. Billy had these ideas that he'd thought about using but hadn't got around to doing so he brought them over to me just before he went to America."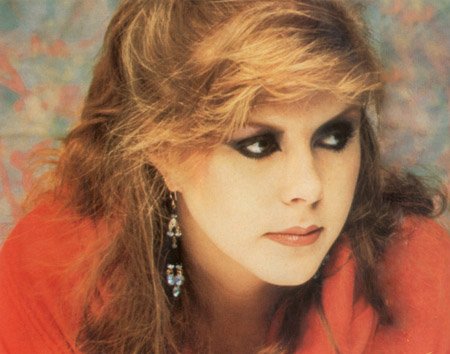 With 'A New England' climbing the charts, Mike Gardner took time out to catch up with the recently married Kirsty's family circumstances for Record Mirror (2 Feb 1985 issue). Was it love at first sight? "Apparently for Steve", she says. "I was too nervous singing with my favourite group (Simple Minds) to notice him. It happened in October 1983 and it was one of the highlights of the year. I sang on the single 'Speed Your Love' and the Lou Reed song 'Street Hassle'. I'd heard of his reputation as a producer and I was surprised how young he looked – rather like a jolly sixth former. I assumed he'd be going out with a Page Three girl or something. He was very nice but I didn't really pay any attention to him – it was work." A few weeks later Kirsty had her first inkling that she'd created an impression with Lillywhite. "He invited me to watch Big Country recording 'Wonderland'" and I got suspicious because there weren't any backing vocals needed."
Their first date was at Virgin boss Richard Branson's lavish Guy Fawkes night party in Oxford. "I couldn't believe he was so nice. I kept waiting for the truth to come out – some deep dark secret, but he was wonderful." How did he propose? "This will sound soppy, he was doing the sound for a live concert in Glasgow for Big Country on New Year's Eve. I went to give him a kiss at the midnight hour and on the 12th stroke he asked me. Just then a piper's band came on and everyone did 'Auld Lang Syne'". We told everybody immediately and we jumped around and got really excited. We went back to Jim Kerr's house to celebrate Hogmanay and crack open a few bottles of champagne. I can't remember much about the next day."
Most of the wedding arrangements fell into Kirsty's lap. "It was easier for him to get out of it as he worked in the studio. It's difficult to say I'm busy songwriting because everybody assumed I'm at home doing nothing all day." In fact they hardly saw much of each other since work meant that Steve was sent to distant lands such as Paris with Frida of Abba and Sweden with Big Country.
On the big day in August, she arrived 45 minutes late for the ceremony. "My friend who was doing my hair got stuck into the champagne early in the morning and she was pretty slow. We had a pink cadillac and a chaffeur dressed in a pink uniform – I felt like Lady Penelope with Parker in 'Thunderbirds'. I was practically hysterical with nervousness and kept wanting to giggle. In the congregation were Frida from Abba, Holly and Paul from Frankie Goes To Hollywood and various members of U2 and Big Country. The most moving part of the ceremony was Bono of U2 reading the lesson. He read that part of Corinthians that begins 'When I was a child, I spoke as a child'."
"The reception was great – I've never had so many friends together in one place at one time. My mum kept Holly Johnson on the dance floor for ages until he complained of exhaustion. The only minor disaster was when Steve did a Leonard Rossiter on me and spilt red wine down my cream silk wedding dress, just like in the Cinzano ads. Luckily everybody was drunk by then and it was time for me to change into my going away suit. They gave us some free champagne in the Ritz Hotel so my wedding night was a blur – but it was memorable" she adds quickly, with a twinkle in her eye.
Their romantic honeymoon in Barbados coincided with the rainy season and the worst floods the island has had for 83 years. Since their joining together in holy matrimony Kirsty admits she only gets to see Steve in the bathroom in the mornings because he works such long hours. But the 'A New England' single afforded the pair the chance of working together for the first time on one of Kirsty's projects. "I'd always liked the song and told Billy Bragg I felt like having a go at it." she says. "It was too short in its original form for a single so Billy wrote an extra verse for me. It was easy doing the single. Steve and I are used to working with each other now."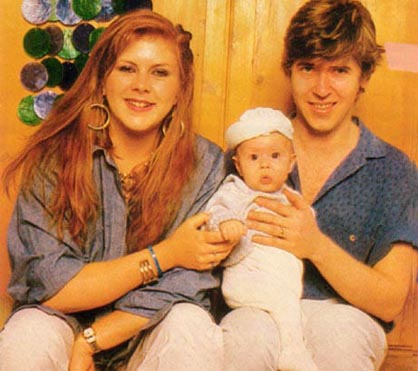 Martin Townsend visited Kirsty and Steve at home for No.1 magazine in 1985 (photos by Steve Rapport).
When Kirsty MacColl and Steve Lillywhite met in late 1983, she was settled in a flat in Shepherd's Bush. After a whirlwind romance, Steve moved out of his Fulham house and "emigrated to Shepherd's Bush" as Kirsty puts it. They now live together in what Kirsty describes, in her best estate agent's voice, as a "ground floor Victorian flat in a large house, many original features including cornicing and wooden shutters. When I first moved into it, there was no furniture. I just had my mattress and a stereo. I used to sleep in a different room every night 'cos it didn't matter where I slept. I slept in the kitchen sometimes. I lived on Weetabix for three weeks when I was really broke."
There's a rude black statue on display which Kirsty's dad Ewan bought her in Papua, New Guinea: "It's a sort of fertility symbol. When I was at home my mum made it a pair of shorts so his dong wasn't hanging out. But I took them off 'cos I thought he ought to get the air to it." And a signed picture of 60s superstars The Everly Brothers. "People see that and they say 'Gosh, you're not that old are you?'" says Kirsty. "But it's an old picture and I met Don Everly quite recently and got him to sign it." '
On the kitchen pinboard there are postcards, photo-booth snaps with silly faces, a little finger puppet head. There's also a postcard from a certain 'Terry' in Australia which provided the solid inspiration for 'He's On The Beach'. It even says it's 'Brilliant' there.
Robin Smith contributed to the June 1985 issue of Record Mirror, hooking up with Kirsty in Paris while Steve Lillywhite was produced the Stones. "Mick Jagger is a great little mover! We didn't spend all our time getting drunk and wrecking things, but we'd gone out for a civilised dinner – the Stones are rich old men now, they're quite quiet. Steve doesn't like dancing and neither does Bill Wyman. but Mick wanted to have a go so we both got up. Mick Is very good on his feet for a man of his age. He's got a lot of style. The floor didn't clear when we were in action. The Parisians are very cool and they don't get excited. We had to dance shoulder to shoulder with everybody else. It wasn't like a scene in 'Fame' or anything like that. The Stones are pretty down to earth. They're not paranoid about who they are and they don't have squads of bodyguards going with them everywhere. People like Prince have them because they think that's the way stars should behave. But Prince is a bit of a wimp really. Real personalities are strong enough without all that."
Steve explained, "I was on a shortlist of five producers the Rolling Stones were choosing from." he says. "I wasn't afraid or apprehensive of working with them. I just eased myself into it. It's a question of either side building up confidence in each other and they're very stimulating people to work with. They have a lot of ideas and they're still very enthusiastic. They haven't become cynical, their soul is still in it which is good. We've done four backing tracks for the album and it will have a rocky and punchy sound. I don't know what I'll be doing after the Stones and Kirsty. I don't like planning things too far ahead or else things start running away with me. It's amazing, I've been producing for seven years now. Since I started there's whole new generation coming up. It makes me feel like an old man sometimes."
This afternoon, Kirsty is rehearsing for a spot on the Wogan show singing 'He's On The Beach'. The BBC studio is just down the rood from where Steve and Kirsty live. After they got married Steve moved into Kirsty's tiny one bedroomed flat and life has been so hectic they haven't had time to move out yet. At the moment they're trying to find a nice little place with a garden. "I don't want to live in the country. I was brought up there so it would be pretty boring. I'm saving the country for my old age. I'd really like a holiday, but with looking after Jamie there's not much time. He's a good baby though and he's got a good voice. I'm not going to push him into singing if he doesn't want to. A bit of sunshine would do the single a lot of good (as) well … It's a summer single and I'm sure people will rush out and buy it if the clouds cleared. The single has no hidden depths, it's just, about a bloke out in Australia enjoying himself. The Billy Bragg song for the last single was more serious. When I first heard the song I thought that's good, it will be a hit. And for once I was right. It was hell making the video, I was seven months pregnant and it was shot out in the freezing cold."
"I don't really like being on stage (or being filmed) but I am getting better at it. I get a lot of fun out of recording in the studio. Most people say they want to get out on the road but I prefer writing songs and recording. I like observing people rather than being observed. It's nice when people come up and ask for an autograph but I'd go mad if a whole group of people surrounded me!"