LONDON Venue
In 1978 Kirsty appeared as backing singer with Drug Addix in and around London. They certainly played at the Venue in London at some stage. Did they support Graham Parker or was that just a rumour?
June 1979
'They Don't Know' single released on Stiff.
October 1979
'You Caught Me Out' single white labelled by Stiff but never released.
Top of the Pops
May 8 & May 22, 1980. Jona Lewie performed Kitchen at Parties on TOTP. Kirsty appeared on backing vocals on at least one of these shows, sporting a lemon coloured dress and looking very nervous.
February 1981
'Keep Your Hands Off My Baby' single released.
May 1981
'Chip Shop' single released on Polydor.
June 1981
'Desperate Character' album released on Polydor.
Top of the Pops
June 25, 1981. Kirsty appeared on the classic UK pop hits show performing 'Chip Shop'. This show was presented by Simon Bates.
https://www.youtube.com/watch?v=DL2GmaI3Xus
Top of the Pops
July 9, 1981. A second outing for Chip Shop, this show presented by Jimmy *******, Alan Freeman and Pete Murray.
Razzmatazz
August 4, 1981. Early performance of 'There's A Guy Works Down The Chipshop' on Razzmatazz TV show. Backing Kirsty up are Lu Edmonds (guitar), Gavin Povey (piano) – both these guys were on the record – Brian Nevill (drums) and Alan Lee Shaw (bass).
September 1981
'See That Girl' single released on Polydor.
Musikladen
September 10, 1981. Performing on the German equivalent (Musikladen 64) with 'Chip Shop'.
Disco
October 19, 1981. Performing 'Chip Shop' on the German TV Show 'Disco'.
IRELAND: Tour of the Ballrooms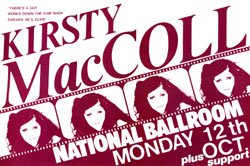 October 12, 1981 (etc.) Kirsty's debut tour of Irish ballrooms on the back of Chip Shop proved to be such a harrowing experience that it was another eight years before she returned to the stage as a solo artist.
"I was nervous before I went but I was absolutely shitting myself by the time I got home!" she recalls, with the air of someone who's now exorcised that particular demon. "I was extremely ill prepared for it: I was very young. I didn't have much guidance and it was thrown together at the last minute."
"I've also got a very quiet voice, and though it's a lot louder now, it's not exactly Tina Turner! The band made a hell of a noise, and I couldn't hear myself at all. Being young, I didn't realise that you can tell 'em to turn down. I just couldn't imagine why anyone would put themselves in that position for pleasure."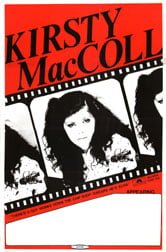 The band on this tour included Lu Edmonds, "We did studio stuff and then went on what was for her a very difficult tour around Ireland, the ballrooms, because she had a very bad case of stage fright. We had Terry Woods playing with us. It was a really bizarre bunch, with muggins here on the guitar."
"We did the ballrooms, from Lochrae to Letterkenny, all the way down to Cashel, Limerick, Dublin. Frank Murray was tour managing it, who was the Pogues manager later, and before that he was Thin Lizzy's tour manager, so it was really Irish. It was great. We went to Strand Hill with Planxty's manager who ran a pub and who put the gig on there."
The same touring band can be seen on the next clip:
Something Else
October 23, 1981. Kirsty performing 'I Don't Wanna Play House' on the 'Something Else' TV show. Footage from Peter Checksfield, arranged by Ruby Pepper.
November 1981
'You Still Believe in Me' single released on Polydor.
Top of the Pops
December 25, 1981. The annual Christmas version of the chart show featured Chip Shop in all its splendour – its third appearance on the show that year!
February 1983
'I Want Out' single with Matchbox released on Magnet.
Musikladen
February 10, 1983. Performing on the German TV Show (Musikladen 77) with Matchbox, performing I want out.
August 1983
'Berlin' single released on North of Watford Records.
October 1983
'Terry' single released on Stiff.
Musikladen
January 26, 1984. Performing 'Terry' on the German TV Show (Musikladen 85) Matchbox, with Lemmy from Motorhead on guitar trying to keep up. "I was on guitar, dressed in shades and a teddyboy outfit, and I sank to my knees during a guitar solo – actually, I had no idea what I was playing."
December 1984
'A New England' single released on Stiff.
Top of the Pops
February 7, 1985. The promo video for 'A New England' was aired on the chart show. The presenters were Gary Davies and Richard Skinner.
March 1985
'Kirsty MacColl' compilation/reissue album released on Polydor.
June 1985
'He's on the Beach' single released on Stiff.
Wogan
June 1985? "This afternoon, Kirsty is rehearsing for a spot on the Wogan show singing 'He's On The Beach'. Even for such a short slot it takes three rehearsals getting the camera angles right. Still, as the show has upwards of seven million viewers It's an audience not to be missed." So presumably this show went out at some point.
Red Wedge
Red Wedge was launched on 21 November 1985. The marquee on the terrace was disappointingly blue and white according to Billy Bragg, but it was soon packed with pop stars drinking hot punch: Billy, Paul Weller, Jerry Dammers, Tom Robinson, The Communards, Hank Wangford, Heaven 17, Roland Gift, Rat Scabies, Kirsty MacColl and actor Robbie Coltrane. Big-trousered Latin poseurs Blue Rondo a la Turk even turned up, perhaps the antithesis of Billy's rock'n'roll ideal, but this was not to be an exclusive club. (Source: Billy Bragg, 'Still Suitable for Miners' book)