February 1994
'Titanic Days' album released in UK on ZTT.
Kenny Live (Irish TV)
February 26, 1994.
Kirsty MacColl - Bad on "Kenny Live" (RTÉ 1994)
Kirsty performed 'Bad' for this Irish promo spot.
BBC Radio 1, Simon Mayo Show
March 7, 1994. 'My affair, Bad, Can't stop killing you'. Later released on 'What do pretty girls do?'
US Tour
"Kirsty played the Agora Ballroom in Cleveland, Ohio, in either Dec. 1993 or Jan. 1994. The night of Kirsty's show, Cleveland was pounded by a particularly vicious snowstorm. We arrived just in time for some folkie guy named David Gray. As we walked into the theatre, we were stopped by a club worker who told us the show had been moved into the much smaller adjacent Agora Ballroom. Uh oh.
The Agora Ballroom was a tiny stage and held about 200 people. It was were local acts honed their craft. Looking around, the Ballroom was very nearly empty. We grabbed a table near the front of the stage. There were so few people there, they left the tables and chairs, feeling the crowd wouldn't be large enough to justify clearing the floor.
When Kirsty hit the stage, including us and the bar workers there were 32 people – who got to witness what had to rank amongst the most committed, heartfelt performances they'd ever seen. Completely unfazed by the sparse turnout, Kirsty and her band played an energetic, spot-on 90 minute set, covering just about every aspect of her career, from early Stiff singles to her latest album 'Titanic Days'. At one point, Kirsty left the stage, mic in hand, to come to the floor, walk from table to table and sing to us, taking the piss out of cheesy bar torch singers. You had to be there. We were in rapture.
At one point, between songs, I couldn't help myself. I yelled out, 'WE LOVE YOU, KIRSTY!' With expert comic timing that Bob Newhart could respect, Kirsty didn't react, waited a beat, then deadpanned in an Irish brogue: 'Yeh, that's whut they all say'.
After the show, Kirsty and her band didn't run backstage. Rather, she asked that the house light come up, then she and the band simply walked off the stage and over to the bar where they gladly met, talked with and hugged every single person in attendance. She was warm, friendly and most definitely, one of a kind." JH
TORONTO
May 1994
VANCOUVER Music West Convention
May 12-15, 1994. The fourth annual Music West convention in Vancouver featured production workshops with Hugh Padgham, Bruce Fairbairn, Steve Lillywhite and Steve Brown at local recording studios, and songwriting workshops featuring Kirsty MacColl, Jane Siberry, Bonnie Hayes, John Ims, Hugh Prestwood and Marc Jordan.
LONDON Fleadh, Finsbury Park
June 11, 1994. "Kirsty was not appearing with the sadly MacGowanless Pogues on the main stage but did a VERY nervous and short (20 minute) set in the acoustic tent – can't remember the set list except for 'New England' and 'Free World'." Source DC2.
Shane MacGowan Kirsty MacColl - Fairytale of New York Fleadh
She later joined Shane MacGowan on stage with the Popes to sing a 'spendidly ramshackle" 'Fairytale of New York'.
LONDON Mean Fiddler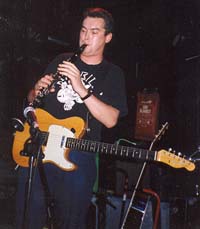 July 13, 1994 (support: Big Corporation).
'Titanic Days; Free World; Caroline; Angel; Bad*; Don't Come The Cowboy…; All I Ever Wanted; He's On The Beach; Tread Lightly; Walking Down Madison; Can't Stop Killing You; They Don't Know; A New England; You Just Haven't Earned It Yet Baby; Dancing in Limbo; Miss Otis Regrets; I Wanna Be Sedated' * featuring Boz Boorer on clarinet, photo: Terry Hurley
STRATFORD-UPON-AVON Phoenix Festival
July 16, 1994. 'Titanic days; Free world; Caroline; Angel; Bad; Don't come the cowboy with me, Sonny Jim!; All I ever wanted; He's on the beach; Tread lightly; Walking down Madison; Can't stop killing you; They Don't know; A new England; (I wanna be) Sedated.' Soundboard tapes exist of her 1994 Festival performance at Long Marston Airfield.
1994
'Caroline' single released on Virgin
Later: Hootenanny
Kirsty maccoll - Miss Otis Regrets
December 1994. TV appearance on BBC2 "Later: Hootenanny" with Jools Holland. 'Miss Otis regrets' – later made available on DVD. It's the one with the pipe band.