LONDON Palladium
February 6, 2000, supporting Ian Dury & the Blockheads.
LEEDS Duchess of York
February 10, 2000.
GLASGOW King Tut's Wah Wah Hut
February 11, 2000. Photos (above) by Brian Mathieson. Note the famous percussive object waiting for its brief appearance.
"I remember it being a freezing cold February night, the snow was laying thick – so we rushed to the bar to order a wee dram of whisky. King Tuts was packed out that night. The crowd being very mixed. There were those who had just discovered Kirsty and others who eagerly held there single copies of 'A New England' in the hope of a signing at the end.
10pm and the buzz within the club was at boiling point. The set up looked amazing, with the big brass section sparkling in the light. The band appeared with Kirsty in the middle. The audience go wild. Kirsty shouts "Well guys, it looks like we got ourselves an audience!". They leap straight in 'Us Amazonians'. Kirsty looks a little uncertain through the first half of the set, partly to do with nerves and the fact that she can't remember the words. She apologies for this. But asks us to stick with it and if we are very good the treats will come later. 'In these Shoes?' is the big hit of the night – even on It's first hearing the crowd are going wild. After much of 'Tropical Brainstorm' we get a stipped down version of 'Days' and various hits from 'Kite' and 'Electric Landlady'. We also hear Jobim's 'How Insensitive', which for me was the really highlight of the night and demonstrated how angelic and beautiful Kirsty voice was. By this point my feet were inching for 'My Affair' and I just had to shout it out. To my surprise she said "I thought you'd never ask!" and the band really rocked to probably the best Kirsty sing-along tune. The classic 'A New England' rounded the night off leaving the crowd merry and ready for the album in March.
I did managed after much persuasion to get back stage. I was terrified. What was I going to say. Anyway, I walked in to the dressing room and there was Kirsty with a huge glass of red wine laughing her head with the rest of the band. She signed at least 4 albums and gave me a promo of the new album. When I asked her what she thought of the gig she said 'I love the Scottish crowd, you guys are great. I really enjoyed that – we are going to get another date here soon.' It's just so sad we won't here that great voice live again. But the memories live on." Source: TO2
MANCHESTER University (Hop & Grape)
February 12, 2000. Ticket Stub courtesy of ME. £5.50? That was a steal…
BRISTOL Fleece & Firkin
February 15, 2000.
LONDON Dingwalls
February 16, 2000. "When a British pop artist does an album of Latin rhythms, my heart sinks a bit. There's an element of forced gaiety about it, a hint of student party-time. At Dingwalls a relaxed, composed MacColl gives it an airing, accompanied by a seven-piece band. Her opener, 'Us Amazonians', is a brash, promising mix of Irish jig and manic Brazilian beats, but this is followed by the more whimsical 'Here Comes That Man Again' and 'Celestine'.
The crowd jiggle along patiently. The Latin influence sounds like pastiche, and she's more Victoria Wood at an Ann Summers' party than urban poetess. The fiery horns and percussion work better on 'England 2 Columbia 0', an edgy take on failed romance. MacColl is most effective when she lets go of the laid-back, winsome delivery and injects biting passion into those honey-sweet tones. This is evident on the funky 'Walking Down Madison' and on 'Days', which tonight sounds fulsome and poignant. MacColl is one of the few artists who can sing a cover version and make it stronger than the original. The evening ends on a high note when she performs Billy Bragg's folk-punk classic 'A New England', and receives a riotous reception. This is the anthem that the crowd has been waiting for. It wasn't so much the technically proficient Latin rhythms that got them going, but the fire and tension in her unmistakable voice." Source: The Guardian by Lucy O'Brien
"She opened her sellout gig at Dingwalls by apologising for how cramped it was and explaining that they were going to hold it at the Millennium Dome, but that the owners weren't too happy about filling it with "dope smoking homosexuals" (not a reference to the Conservative party). Anyway, judging by the stunned silence that followed, I Don't think most of them had any idea that they were 'camp followers'". Source: Rough Trader. Photos by auralfixation.
28 February 2000
'In These Shoes?' single released on V2.
Kelly TV show
Broadcast on March 10, 2000. Northern Ireland TV program, with 'In These Shoes?' and 'My Affair' on the menu.
GLASGOW Scottish Television Studio
Kirsty MacColl - Boxed Set Live Show (2000)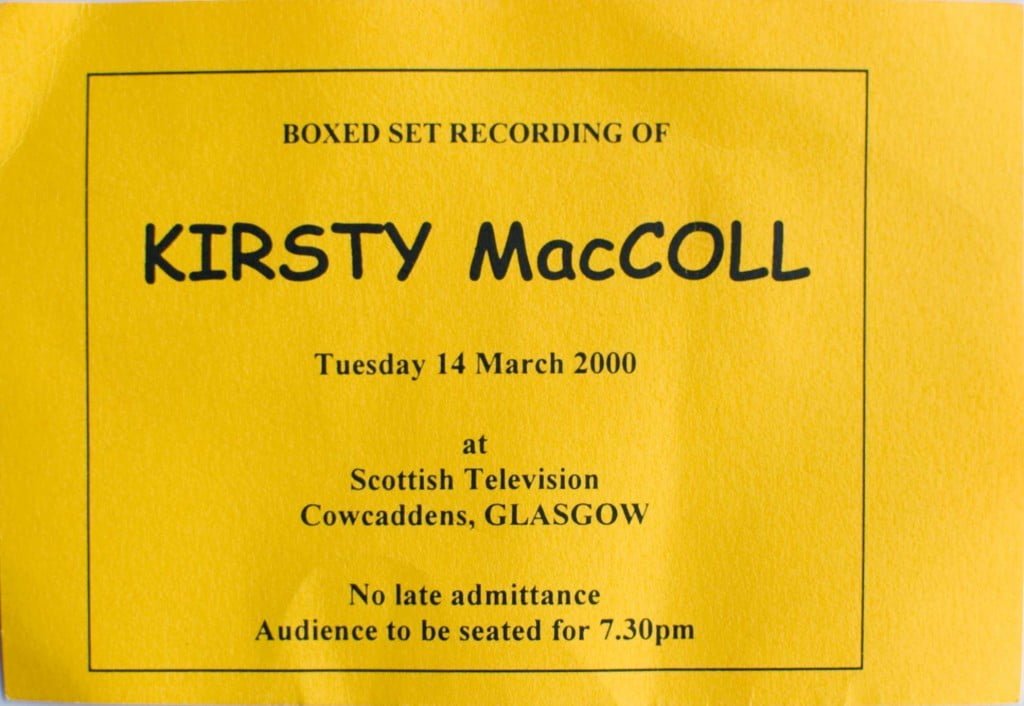 March 14, 2000 (broadcast in October)
'In these shoes?; England 2 Colombia 0; Walking down Madison; Celestine; Us Amazonians; Wrong again; Head; Here comes that man again; My affair; New England'
'Kirsty and band ran through most of the standard live set with James' brother Bob filling in for Dave Ruffy. Lots of problems with the sound recording (requiring several songs to be re-done) and a strangely uninvolved and placid audience. The studio layout didn't lend itself to huge involvement since almost the entire audience were seated BEHIND the band. Curious, but fun.
27 March 2000
'Tropical Brainstorm' album released on V2.
Later with Jools Holland
Kirsty MacColl live on Later... With Jools Holland
April 15, 2000. TV appearance on BBC2 "Later" with Jools Holland. ' In these shoes?; England 2 Colombia 0'
Kirsty performed 'In these shoes?' and 'England 2 Colombia 0' in addition to doing Jools' interview by the piano on the 100th "Later". Earlier in the day the complete video for 'In these shoes?' appeared on TOTP2.
24 April 2000
'Tropical Brainstorm' album released in US on Instinct Records.
Open House with Gloria Hunniford
April 25, 2000. TV appearance on Channel 5 "Open House with Gloria Hunniford". ' In these shoes?; England 2 Colombia 0'
Kirsty appeared on the couch with Angela Rippon, hawkishly standing in for Gloria Hunniford along with a curious performance of 'England 2 Colombia 0' (the Scumbag mix).
A Question of Pop
May 6, 2000.
TV appearance on BBC1 "A Question of Pop"
"A QUESTION OF POP" was the latest program to benefit from an appearance from Kirsty, for the record Kirsty's team was beaten by Suggs, Kelle Bryan and Roger Taylor. Based extremely closely on "A Question of Sport" this show was toe curlingly awful!
WOLVERHAMPTON Wulfrun Hall
May 13, 2000 (support: Bucky). 'Us Amazonians; Não Esperando; Mambo de la Luna; Here comes that man again; Free World; Head; Autumngirlsoup; Celestine; In these shoes?; England 2 Colombia 0; Wrong again; Days; Don't come the cowboy with me, Sonny Jim!; Treachery; Walking down Madison; A new England; My affair; There's a guy works down the chip shop swears he's Elvis'
"This gig was a lot different than the last time I saw her here around Galore time when the line up was a basic guitar, drums, bass. The current 8 piece (percussion, sax, trombone, trumpet, flute) really enhance the whole sound not just on the new album tracks but the old songs as well. The band seemed to be really enjoying themselves especially the bass player who got the crowd going. '
'The atmosphere was very relaxed (no sign of nerves!) and even when Kirsty forgot the odd line as on 'Cowboy' the crowd sang out loud and helped her out. She laughed this off after the song explaining that she'd been stoned for 15 years! The new songs went down very well with people dancing and clapping along. Highlights for me were 'Wrong again, Treachery, Head, Days' and 'England 2 Colombia 0'. My only complaint is that the 1 and half hours they played wasn't long enough and went in a flash. I was hoping for 'Titanic Days, Pretty girls' and 'You know It's you' but you can't have it all. On the whole it was an excellent gig and a lot different from the last gig I saw (Cure at wembley–very intense and brilliant) but I hope Kirsty doesn't leave it as long till her next album/tour." Source: NB2 Ticket and set list – Tim E
SHEFFIELD Leadmill
May 14, 2000 (support: Bucky). 'Us Amazonians; Não Esperando; Mambo de la Luna; Here comes that man again; Free World; Head; Autumngirlsoup; Celestine; In these shoes?; England 2 Colombia 0; Wrong again; Days; Don't come the cowboy with me, Sonny Jim!; Treachery; Walking down Madison; A new England; Insensitive; My affair; There's a guy works down the chip shop swears he's Elvis'
"The band was really tight – excellent sound and crystal -clear vocals from Kirsty. The brass section added new sounds to the old songs and the rhythm section loud and exciting. I thought the crowd reacted enthusiastically to the new stuff although Free World received the biggest cheer of the first half. The set seemed to pick up pace with In these shoes which got most of the audience dancing. From here on we were blasted with one fantastic song after another. The audience sung along to 'Cowboy' word perfectly, and 'Treachery' was FANTASTIC! 'My affair' (surely Kirsty's signature tune) made a great encore, and 'chip shop' rounded off a great, uplifting gig." – Andy M
HOW INSENSITIVE
We don't know which gig this was recorded at but here is 'Insensitive', performed by Kirsty with Michèle Drees on guitar.
Radio Session?
Rumours of a session recorded with Nick Lowe for the Johnnie Walker show on BBC Radio some time in 2000. Can anyone confirm or deny this? Source: EO
She was certainly interviewed by Lynn Parsons for BBC Radio 4:
EDINBURGH Venue
15 May, 2000 (support: Bucky). Same set list as Sheffield. "The temperature inside The Venue was already uncomfortably high, but Kirsty MacColl and her band took it beyond melting point. Never one for doing things by halves, MacColl had filled every square inch of the stage with instruments and equipment – then added a percussion unit the size of an oil rig. There was hardly any space for an extra microphone stand, let alone the seven piece band she had brought with her. But the band wasn't there simply to take up space. Brought together on to a tiny Edinburgh stage from Colombia, Brazil and Puerto Rico, they brought with them all the relentless, driving sounds and rhythms of Latin America. And they used that sound to great effect, turning the gig into one big party. It was an electrifying performance, with a swinging horn section and the irrepressible Colombian bassist Chucho Merchan ensuring that the whole routine never came off the boil. The result was a sizzling show delivered by a remarkably talented band, and a sound so entrancing that the audience refused to move until they had been given not one but two encores". – Drew McAdam (Edinburgh Evening News).
Freeworld says – yep it was great stuff! Even the dread of the 'Chip Shop' encore was lightened by the swinging horn embellishments. All the older songs are benefitting from the treatment, and of course 'Madison' now swings as well as rocks!
MANCHESTER University
May 16, 2000 (support: Bucky).
Manchester University
'Us Amazonians; Não Esperando; Mambo de la Luna; Here comes that man again; Free World; Head; Autumngirlsoup; Celestine; In these shoes?; England 2 Colombia 0; Wrong again; Days; Don't come the cowboy with me, Sonny Jim!; Treachery; Walking down Madison; A new England'
LONDON Forum
May 18, 2000 (support: Bucky). Same set list as Sheffield
"It was a wonderful show, I can't imagine anyone going home disappointed. One of my friends who is not familiar with the new album yet was really surprised (pleasantly) to hear the older stuff, as I was too. Would have liked a little more chat from Kirsty as she has a fine sense of humour but I guess the time she saved in chatting made up for more songs. The band were indeed very impressive and everyone seemed to be having a ball. I think my favourites were 'Head' (in fine voice here) and 'Wrong again'. 'New England 'went down a storm with everyone too. Once again I was amazed at how truly great Kirsty's voice is live. I always expect it to be a bit weak but it really was faultless – she seemed so confident on stage. It was a joy to witness." – Ross
BBC Music Live
May 20, 2000. Appearance on BBC TV & Radio "BBC Music Live". 'England 2 Colombia 0' and Celestine.
Kirsty and band appeared on HMS Belfast, in the River Thames, and performed 'Não Esperando, England 2 Colombia 0 and My Affair' for live radio broadcast. Billy Bragg and Nick Lowe were also there. [Thanks to AS2 for the update]. Kirsty's appearance was also broadcast on TV on 30th May.
May 30, 2000. Appearance on BBC TV & Radio "BBC Music Live". 'England 2 Colombia 0' and Celestine.
BBC Television and Radio joined together for a five-day festival on-air culminating in 24 hours of non-stop music on Mon 29th May. This included an appearance on BBC London Live in the early hours, a guest spot on Johnnie Walker's afternoon show on Radio 2 and this appearance in the middle of the night on BBC2, introduced by Phil Jupitus:
2000
'England 2 Colombia 0' promo single released for radio only on V2.
ZDF Fernsehgarten (German TV appearance)
June 4, 2000. Kirsty had a TV appearance on the very popular Sunday morning show "ZDF Fernsehgarten" with "In these shoes". The "ZDF Fernsehgarten" is a weekly show that now runs for about 30 years. It's an open-air-show broadcast live from 11 a.m. to 1 p.m. in the summer month from Mainz, the town where the ZDF (Zweites Deutsches Fernsehen) is located.
I remember very well that I was very surprised that Kirsty was there singing in front of a swimming pool, and I also remember two female dancers in the background, which I found strange. "
Thanks to Joachim E.
LONDON FLEADH (Finsbury Park)
Kirsty MacColl - Fleadh 2000
June 10, 2000. 'Us Amazonians; Não Esperando; Here comes that man again; In these shoes?; England 2 Colombia 0; Treachery; Free World; Don't come the cowboy with me, Sonny Jim!; Days; A new England; My affair; There's a guy works down the chip shop swears he's Elvis '
"She came onto the main stage at about 17:15 and played for a whole hour. The sun was beaming down the whole afternoon and I really can't describe how fitting it was to have Kirsty performing in this huge park in the middle of London on a beautiful summers day. Kirsty didn't do much talking but she did remind us about the Greenpeace campaign going on in the park to stop dumping rubbish in the Irish Sea.
'In These Shoes?' was introduced as 'a song about dodgy footwear!' For 'England 2 Columbia 0' we learnt that the song was 'written during the last World Cup and has nothing to do with football, some of you may be relieved to hear'. It still received a cheer though. I reckon the record stores will be shifting a few more copies of 'Tropical Brainstorm' on the back of this performance. She really won the crowd over with the new stuff, everyone was ready for a dance in the sunshine!
I've no idea how many people were there – at least 10,000 I would've thought – not bad promotion is it? I also saw Billy Bragg who headlined the small stage at the end of the night. Heard 'A New England' for the second time that day! Billy announced it, rather territorily, as 'my song!'. Before Kirsty came on stage, three of her songs were played over the PA; a dance mix of 'Shoes', a new dance re-mix of 'Us Amazonians' and a song called 'Xodo', a cover of a Brazilian tune, which is currently unavailable but may turn up as a b-side in future." Source – RM (The unissued song could be Dilermando Reis, Xodo de Bahia). Note that three songs from this show were featured on VH-1 TV alongside an interview.
LONDON Brixton
June 16, 2000. 'Hit me with your rhythm stick' – Guest vocalist in Ian Dury tribute night alongside various Blockheads.
Jools Holland radio show
Never Mind the Buzzcocks
Never Mind The Buzzcocks S07E05 [Part 1]
October 13, 2000. Appearance as guest panellist on BBC TV "Never mind the Buzzcocks" compered by Mark Lamarr, with team captains Phill Jupitus and Sean Hughes. Kirsty was on Sean's team and was accused of being the first guest ever to be actually trying to answer the questions.
COVENTRY Warwick Arts Centre
October 27, 2000. ' Us Amazonians; Não Esperando; Mambo de la luna; Here comes that man again; Freeworld; Head; Autumn girl; Celestine; Shoes; England 2 Colombia 0; Wrong again; Days; Cowboy; Treachery; Madison; New England; Insensitive; My affair; Fairytale (with Dave Ruffy); Chip Shop'
"As soon as Amazonians began, a major problem became obvious: it being all-seated, the audience was very flat and unexcited. no jigging around like at wolverhampton.great sound quality, but (as ever) Herself's voice was a bit lost in the mix. Not much audience response apart from my posse jigging about in our seats. Free World got a rousing cheer. Band on top form, especially some splendid guitar work from Pete Glenister and the usual arsing around from Chucho. He seemed to be having more fun than anyone I could see in the audience; indeed, at one point I leaned over and took the pulse of the bloke sat in front of me, was surprised to find he actually wasn't dead.
'Head sounds very Twin Peaksy when performed live. After a wonderful, spectacular, dramatic beginning to Cowboy, she forgot the words halfway thru the first verse (just like w'hampton!) and had to start again, explaining she loved the intro so much it distracted her from the rest of the song. Encore – bit of chatter, then explaining they're nervous because the band has never done this song before. me frowning, apprehensive. Kirsty explains Dave Ruffy will be doing the Shane MacGowan bit, and we should all join in. gasps from round the room … Fairytale of New York. "snow" effects over the Tropical Brainstorm banner thing (seen in the background on jools holland), and a surprising version of the song, with the brass fitting in brilliantly. Then "hmmm, that was nerve-wracking. we'll do something easy now" … and a cry from the audoence of CHIPSHOP!! "ah, the very thing", and a splendid, fast, rocky version of that old standard – and that was that."' Source: CW Photos from footage by Graham Scaife
"Agree that gig was held in the wrong kind of venue, I wanted to dance too. I was pretty disgusted with the lifeless audience, they didn't give her any feedback at all, ('cept me). Cx" Source: CF
LONDON Shepherds Bush Empire
October 28, 2000. setlist probably the same as Warwick but with Spider Stacey & Sonny George on 'Fairytale' . Also no 'Insensitive'."9.35 SHE appears on stage, the place erupts and we're into a brilliant 'Us Amazonians'. Most of TB follows, interrupted only by 'Free World' – 'as It's near Halloween, a song inspired by Margaret Thatcher' – and KM shows what a wonderful performer she really is. 'Autumngirlsoup' is a standout, Kirsty switching effortlessly between the beautifully sung choruses and venomous verses.
She poses, struts and provocatively wiggles her way through a killer rendition of 'In These Shoes?' Then she indicates Chucho, her Colombian bass player, and says the next song will evoke sad memories for him – 'England 2 Colombia 0 'follows, Kirsty giving it loads of vitriol – stunning. Next a beautiful 'Days', KM accompanied by a sole guitarist until the end when all the band come in, 'Treachery' is perfectly done too and her banter with the audience goes down great – especially when her 'That'll be lovely' says what we all think about Keating doing Fairytale! She then brings on Spider Stacy and Sonny George for a rendition of the Xmas classic Keating can only dream of living up to. 'Chipshop' closes the show and out on the street a group of women are singing E2C0 – oh what a night… " Source: JC
"Superb gig with Kirsty in fine form, and the first time EVER I've stood on the balcony at Shepherds Bush and people have actually shut their faces and listened to the music. Usually you can't hear over the yakking. 'Fairytale …' was definitely the highlight for me, but I wish she'd move 'Us Amazonians' further down the set, It's wasted as the opener …" Source: DC
As they walked off stage after the show, Kirsty MacColl turned to Pete Glenister and said "That was the best gig I've ever done." It was to be her last.
Sadly there is no known video or audio record of Kirsty's final stage performance at Shepherds Bush Empire. However, Matthew Bell took these shots at the gig.
2000
'Treachery' promo single released for radio only on V2.
Janice Long radio show
In November/ December 2000 Kirsty recorded some songs with Philip Chevron (of the Pogues) for a new musical he was in the process of writing, then she took her family to Mexico for a well earned holiday.