The earliest press interview with Kirsty we have found dates from 14th July 1979, with Paul Sexton for Record Mirror, which sets the scene.
Somewhere in between the hype and the hit, when the noise has died down before it lives again, there's a spell of anticipation when the singer can give a reasonably unexaggerated account of herself, and enable the journalist to paint a portrait of the artist, a young woman.
Kirsty MacColl is 19, from Croydon. On the the one hand, she's just another singer waiting for her first hit; on the other, she's far more worthwhile because she wrote 'They don't know' herself, one of the cleanest cuts of pure pop of the year, as well as the B-side, the harder, pushier 'Turn my motor on'.
"The B side is an old Addix song" she said, "it's more … than the A side, which sounds like the Beach Girls". In fact she even describes 'They don't know' as a "teen ballad".
Kirsty's musical background – daughter of folk singer Ewan MacColl and then a member of such bands as Rat Alley and the Addix – might seem a little inconsistent, but she told me, "I like lots of different styles. As time goes on I might establish one particular style, but at the moment I just want to try everything. I like Steely Dan, the Beach Boys, the Ramones, the Band, the Kinks, and I'm mad on Linton Kwesi Johnson at the moment. And I like a lot of sixties music and 50s doowop."
We were speaking in the homely confines of Kirsty's current workplace, the Croydon office of Industrial Exchange and Mart. "I'd love to stay in the music business and make a living from it." she said. Kirsty was quite enthusiastic about Stiff Records, "I think they're better than a large company, they're more personal. They've got a good reputation built on their achievements. I think they've done a good promotion job for me. I think there's a danger of being manipulated by everyone. I'd like to reserve the right of some artistic say. It is important to be commercial, but it's more important at the business end. This sounds a bit of a cliche, but I think integrity is important."
"I've had pretty good publicity so far, but the papers tend to play cat and mouse. The old build 'em up knock 'em down routine, of which I hope I'm not a part. If this one's a hit, they'll probably slag off the next one. They might like it for different reasons, I don't know."
The young lady's not sure about an album – it's still in the balance – but it's bound to be a natural progression once a few singles have appeared. "I'd like to do a tour, as soon as I've got a band together. It'll probably be a five-piece, nothing too big. I just want people in the band who are dedicated musicians."
Meantime it's a case of sneaking interviews at lunchtime and after work, and generally trying to lead two lives at the same time. Exchange and Mart never had this much glamour before.
Two years on and with 'Chip Shop' flying high, Ian Birch and Stuart Franklin took the story forward for Smash Hits.
"Don't ask a lot of questions about me Dad!" pleads Kirsty MacColl, flicking back the glorious swathe of hair dotted with tell-tale Red Indian braids. Only minutes previously she had blown a kiss in the direction of an Adam Ant poster. Imitation is still the sincerest form of flattery.
Her family wanted her to go to university to study science but she wasn't too enthusiastic. By way of a compromise she went to art school. That didn't work out too well either. "Most other people at college were only there because their parents expected them to do something and art college is an easy way out – easier than finding a job or really applying yourself to a project. When I realised I was there for the same reason, it seemed dishonest and I left after 6 months."
So what did she do then? "I learnt snooker. They don't like girls going into the clubs much. Pool halls are like the unemployed equivalent of a men's club." While not potting a black (or cleaning flats or working in the mail order department of Bonaparte Records) she played with the Drug Addix who later shortened their name to the Addix. Why that awful name?
"We were called that for a laugh. It was the time of punk and everyone expected an outrageous, Sex Pistols type of band but we weren't. We were all slide guitar and R&B. I was just the token boiler on backup vocals … Of course that annoyed me but you've got to start somewhere. If you can't really sing and you can't play anything, you can't argue about it."
The band recorded a four track demo which Chiswick promptly released as a single. It whipped up a mini controversy because, in Kirsty's words, it was "quite rude". One song, 'Gay boys in bondage', became a talking point for obvious reasons. Written by Rick, it was meant to be a parody of the Lou Reed School of Seediness, a piece of camp corn that lent itself to stage dramatics.
Stiff Records paid for the Addix to make some more demos but nothing came of the venture. The band fell apart. Kirsty stayed with Stiff who in June '79 released her first solo single, 'They don't know'. Produced by Liam Sternberg, it was a rousing beat ballad. The radio played it endlessly but a strike in Stiff's distribution department threw a spanner in her works. You could hear the song but it wasn't easy to buy it. "It wasn't down to Stiff" explains Kirsty "it was down to industrial action. Isn't everything?"
She recorded a follow-up ('You caught me out') which was co-written with Pete Briquette and Simon Crowe of the Boomtown Rats. Not only was the release date delayed as many times as a British Rail train but also no-one could agree on a final mix for the song. "There were so many people mixing it that in the end it became a joke. People literally used to come up to me in pubs and say 'You don't know me but I mixed your single.'" The single never saw the light of day.
Her relations with Stiff became tricky. "We didn't come to blows at all. Most of my best friends work at Stiff but I wanted too much control really… or more control than I was getting. There were any number of little things but I think it was really because they didn't have my publishing." In February 1980 they parted company.
Kirsty was signed by Polydor. Her hard-bitten business sense meant that everyone knew where they stood from the start. Still, there was the occasional shady spot. Bazza (Barry Farmer), engineer to Rockpile and Elvis Costello, asked her to add a vocal to a backing track of the '60s anthem 'Keep your hands off my baby'. "It would have been an 'illegal' single but I thought 'So what?' because no-one will ever hear it. When we did it, I thought it's so much better than the stuff I'd done for Polydor that I ought to tell them. So I did and we put it out because it was ready to go."
The only problem was that it went nowhere, sinking faster than a concrete overcoat. But it paved the way for potential chart-topper 'Chip Shop'. Interestingly she wrote the song with Phil Rambow, a man who has been tipped for success more times during the '70s than he'd probably care to remember. Armed with some miniatures of tequila that Stiff were using to promote Joe King Carrasco, the duo developed the title that Kirsty already had. "After the first couple of bottles" she smirked "it was easy".
Record producer Pete Waterman reminisced about this era in his book, "Dave Robinson [of Stiff Records] started to employ us more and more. I think he saw Peter Collins and me as cheap-rate version of Langer and Winstanley, the production team he had for Madness. One of the people he threw our way was Tracey Ullman. He told me he had a singer whom he wanted to cover a song called 'Breakaway', which I knew as an old Franklin B-side, a real old R'n'B favourite. Now I hadn't watched Tracey on her television series where she'd got a reputation as an impressionist comedienne. I never watched TV. She could been anybody.
We went down to the studio Tracey and asked me who I wanted her to do the song as, which I thought was a bit odd. Then she did it as Lulu, Diana Ross, all these different people. I was falling about with laughter and said to the people in the studio that she ought to be a comedienne. They thought I was taking the piss, but I genuinely didn't know who she was. That song was a massive success and brought out one of Stiff's real strengths, the fabulous stable of girl singers that the label had. One of the best singers and songwriters, not just on the label, but that Britain has ever produced, was Kirsty MacColl. She wrote a song called 'They Don't Know About Us', she'd demo'ed it and I took it to Tracey.
Tracey, Pete Collins and Kirsty worked on that, so it was very personal to me. It really was my favourite sort of record, a 'girl group' sort of record. That was the first time I think I'd ever really made a record that I wanted to make for me. It was a 1960s pastiche record, very much what I wanted to do – it fitted the era beautifully and was one of the first records that I can actually say worked. Dave had me polishing it off at the studio in the middle of the night, with me getting Kirsty and Dave's wife Rosemary to add Shangri La-type backing vocals. It was the best song Tracey ever recorded and Dave gave me something like £30 for doing it.
The day after I'd first played it to him, I went into Dave's office and he said he'd decided not to release it because it didn't 'swing along'. I explained that everything didn't have to 'swing along' and that housewives everywhere would be singing along to it when they were doing the ironing. It went on to be Tracey's biggest hit and the record that broke her in America. Now she's a big star over there, and I sent Dave an ironing board painted gold when it got to Number Two.
Kirsty also wrote this little song which I still think is one of the classic records with her about this guy down the 'chip shop' who thinks he's Elvis. I put the money up for that and we produced it – a lot of great fun. It got Kirsty started, really brought her out.
The Pete Waterman connection continues because he produced Denise Gyngell's version of Kirsty's 'You Broke My Heart In 17 Places' – without doubt one of the greatest pop records ever made, according to Terry Hurley.
Daniela Soave, asked Kirsty about her inspiration for 'Chip Shop' (printed in either NME or Melody Maker).
"Why do artists paint pictures? Why do authors write books?" cries Kirsty MacColl when I ask what motivated her to compose the song. I was beginning to experience how vivid this girl's imagination was, and how she managed to write the above single, even if she wasn't saying so in as many words. The fact that she'd polished off a vast amount of brandy during her day's worth of conveyor belt interviews didn't aid matters either.
You might recall that this young woman with a penchant for very short skirts had what is termed as an airplay hit with 'They don't know' on Stiff roughly 18 months back. What this means is the DJs loved it but no-one bought the darn thing. Anyway, the poor girl didn't get into the charts and shortly after this non-event parted company with the label.
"I became very prolific after that and spent a lot of time working on new material", she says now. "I had a single called ''Keep your hands off my baby'" at the beginning of this year which didn't do anything either. Funnily enough that didn't upset me so much because it wasn't one of my songs so it didn't seem like a personal attack on my composing."
Undeterred, Kirsty continued writing and recording material for her forthcoming LP, co-writing with Lu Edmonds (her long standing guitarist), Phil Rambow and Phil Johnson*. As 'Elvis' is different from 'They don't know', so is the material on the album. "I'm still kind of jet lagged from recording it, but even I'm astounded by its continuity", she says. "I've used the best of all my stuff and I was a bit worried it wouldn't flow, so it came as a pleasant surprise, even though there are many styles. The hardest part is working out the arrangement because I feel too strongly about my songs to let someone else put their ideas over it. It's a very personal thing, and since other people interpret songs differently, they might change the whole aspect of the song."
Kirsty's been writing songs seriously since she was 17, and admits coming from a musical family helps, if only in the fact they didn't try to prevent her from getting into the business. Now, at 20, she has to face the prospect of live gigs. "I will be going out on the road but I'm terrified at the thought." she moans. "However after seeing Bruce Springsteen I've either got to get on with it or slit my throat. Apart from anything else, the on-the-road life doesn't appeal to me at all; it's not my idea of heaven."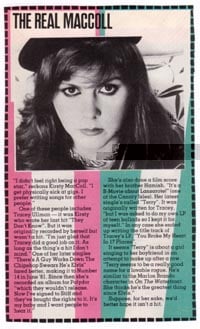 1985 saw Kirsty releasing 'Terry' and Smash Hits came calling once more. "I didn't feel right being a pop star", reckons Kirsty MacColl. "I get physically sick at gigs. I prefer writing songs for other people." One of these people was Tracey Ullman with 'They don't know'. But it was originally recorded by herself but wasn't a hit. "I'm just glad that Tracey did a good job on it. As long as the thing's a hit I don't mind."
One of her later singles 'There's A Guy Works Down The Chip Shop Swear's He's Elvis' fared better, making it to Number 14 in June '81. Since then she's recorded an album for Polydor "which they wouldn't release. Now I've signed to Stiff and they've bought the rights to it. It's my baby and I want people to hear it."
She's also done a film score with her brother Hamish. "It's a B-Movie about Lanzarote!" (one of the Canary Isles). Her latest single's called 'Terry'. It was originally written for Tracey "but I was asked to do my own LP of teen ballads so I kept it for myself." In any case she ended up writing the title track of Tracey's LP 'You Broke My Heart In 17 Places'.
It seems 'Terry' is about a girl singing to her boyfriend in an attempt to make up after a row. "Terry seems to be a really good name for a lovable rogue. He's similar to the Marlon Brando character in "On The Waterfront". She thinks he's the greatest thing since Elvis."